Tucan9999 didn't have one, so I started it for him.
I bought a nitro duck 68/3000 from him for $50 dollars. When I got it, there was no packaging in the box, the tank was just in there. There were two major dents in the bonnet even though the thread only mentioned one insignificant one. It originally screwed into my gun, but it cross threaded, so basically it is unusable. I requested him paying for the replacement regulator. He offered to pay for half, and I told him I would charge half of the installation too, as I would be letting my shop do it. He refused.
It is unclear if the tank was broken when he sent it, or if it broke along the way due to poor packaging.
I do not recommend buying from this individual, as several times he accused me of breaking a tank I never used. His pictures did not show the damage on the bonnet, and the packaging was non-existent. He will not compensate me for damages when I gave him many chances.
Even though he has been on techPB for awhile, I would avoid this seller.
Here are some pictures of the tank: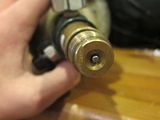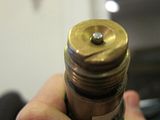 This post has been edited by phish: 21 January 2010 - 07:04 PM