Marker: 2004 CCM'd Red Prostock Pump
Condition:6/10
Color:Red
Upgrades:CCM'd (ccm deluxe kit, autotrigger and CCM grip frame. Shocktech Bolt, Cp re and Cp barrel.
Known Problems: no detent
Asking Price: $300
Shipping Options:USPS
Trades of interest:w/e
Location of item:Illinoiz
What is Included:Marker: Everything listed above.
RULES! MUST READ...
I Never Ship first. I have good enough feedback
You must be 18 years old. If you are younger I need Parental Consent.
If you are offering on my gun post in red. otherwise I will ignore you.
Act Mature.
[B]
SO Today Ihave my prostock pump up for sale.
The prostock is nice, but very used, but its undistuctible. amazin pump.

Prostock - $150
Prostock with ccm parts - $300
ccm parts(deluxe pump, grip frame, autotrigger) - $190 NEVER USED



Prostock will not come with cp reg, It will come with stock reg, with a hard line. THe prostock is missing a detent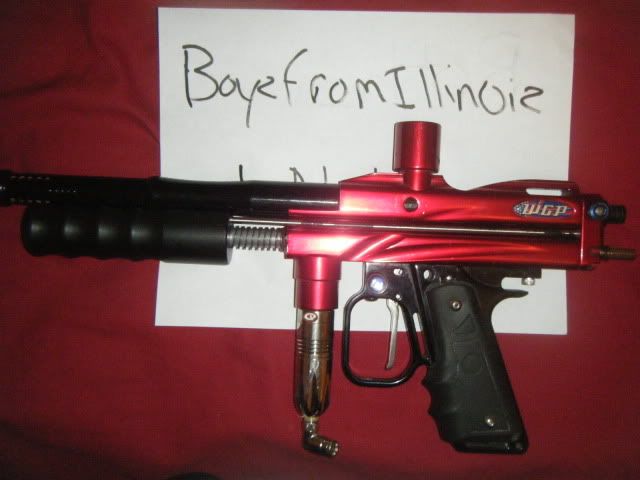 How to contact me


[FONT="Arial Black"][SIZE="3"]
Aim - pm54life
hotmail - roth_1000@hotmail.com
PM ME. is prolly the fastest way to get ahold of me, if you do pm me plz post in thread first. thanx.
THANKS FOR LOOKING!
This post has been edited by BoyzfromIllinoiz: 21 January 2010 - 10:23 PM