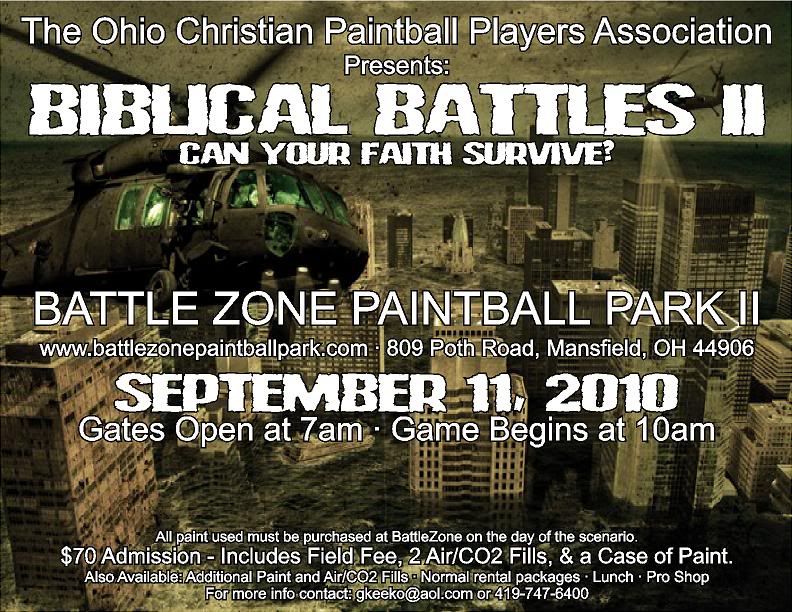 September 11th 2010
At BATTLEZONE PAINTBALL PARK II
809 Poth Rd, Mansfield, OH

$70 Admission – Includes Field Fee, 2 Air/CO2 Fills & 1 Case of Paint
Also Available: Additional Paint & 2 Air/CO2 Fills – Normal Rental Packages – Lunch – Pro Shop
For Info Contact: gKeeko@aol.com or Call 419-747-6400
Or vist our Forums

The those who dont/cant follow us on Facebook (Ohio CPPA) or Twitter (@OH_CPPA) Here is the info for the Event:
Morning Rounds
5 man teams will compete in time trials through 7 checkpoints to determine teams for the second half of the event.
Lunch
Concessions will be offered, none other than, Hotdogs! After Lunch Justin Esterline, youth pastor at First Wesleyan and Member of Speedball team Genesis, will deliver his devotional.
The Ark Returns
The Christians have found the Ark of the Covenant and now must move it to a safe location. The 4 Israelite priests carrying the Ark can only be eliminated by hitting the target on their chest.
Moses
Moses will being standing centerfield and just like in Exodus for your team to be victories he must be holding your teams Flag over his head.
The Final Battle
The 2nd Seal of the Scroll has been broke and the Red Horseman has brought all out war. The teams will go toe to toe and tank to tank against each other.
Bonus Game
This will be . . . Well you will have to

wait and see.