Good day to those reading. In this thread, I'm going to cover tactical vests, and their use in paintball. This is all drawn from my own experience as a woodsball player, and much of the placement/loadout advice is my opinion. The info on the different types of vest however is fact. Everyone is different, this is the way I do things, and I can only recommend it to you.

If you are left handed, and shoot with the tank normally in your left shoulder, then reverse all the left/rights.


Modularity

Onward then. Firstly – Non-modular, semi modular, and modular.


Non-modular/Fixed

A non-modular vest is one that each pouch is permanently sown in place, and cannot be removed or altered. An example of this is the armotech vest below, or the BT battle vest . The advantages of a vest using this type of attachment are that it is simple, and very easy to use. No assembly required, bang it on and go play. However, if there's something you don't like about the vest – for example, if the radio pouch is too small, then there's little you can do it about, short of taking a pair of scissors, needle and thread to it.


Armotech vest, once owned by me. Pods in front (discussed lower down), and non-modular.

Semi-modular

A semi modular vest is one that some pouches can be removed and interchanged, though the scope for this is limited. Such as the rap4 tactical ten vest, the pouches can be removed and reconfigured, using a Velcro attachment system. However, there are a limited number of these Velcro-backed pouches in production – it's by no means a standardised system. Another example is the flurry vest, on which some pouches are removable (again, Velcro attachment), and others are permanently sown on. Hence, semi-modular.



RAP4 TacTen - each panel is attached with velcro to the platfrom.


Modular

A truly modular vest, more commonly referred to as a MOLLE vest (which stands for Modular Lightweight Load-bearing Equipment), is one that uses a PALS webbing system to attach pouches to the vest. The finer points of this would take an entire thread in itself, so forgive me for taking the easy way out, and referring you to
Wikipedia
. The advantage of this system is that there is a limitless amount of configurations available. You can choose any MOLLE platform, from any manufacturer, and combine it with a huge range of pouches (literally, tens of thousands of options), and have a rig entirely assembled to your taste and preference. On the downside though, it rapidly gets expensive.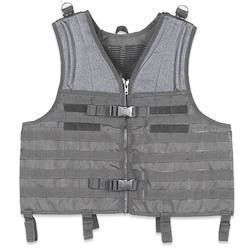 The horizontal lines are strips of fabric, which are sown to the vest via vertical stitching every 1.5 inches. There are vertical corresponding strips of fabric on the back of a MOLLE pouch, which are threaded behind the horizontal strips on the vest. See Tyger's video below for a visual demonstration.

[url="http://www.youtube.com/watch?v=8mcbJQ4p4SI"]http://www.youtube.c...h?v=8mcbJQ4p4SI[/url]


Loadout

So you've decided what type of vest you want to use. Now, what goes in all those exciting pouches and pockets? I'm talking as if you were playing a full-blown, two to seven day scenario, not 5v5 at a walkon or the like.

So joint first, comes paint and water. Some people will say water is all-important, but I disagree, plenty of people play big games here with just pod packs, and are fine. It does depend on your climate though; obviously water will be more important if you live in Oklahoma, than in wind-swept East Anglia. Paint, I can't really advise you on how much you need, it really depends on your style of play.

I personally carry my water in a camelback in a pouch on my vest, but you can use water bottles, waterpods, whatever, it's down to the individual.

After those two, prioritising becomes difficult. A radio, provided other people on your side are using them, is always a valuable asset. You can, in effect, become a team leader - if you can communicate with your chain of command, then everyone around you is in your hands. In your General wants an objective 500m south of your position taken, and you're the only one with a radio in the area, then it's up to you to get some guys together and have a crack at it.

I always carry a map of the game area with me, along with a compass if it's a big field. Obvious really, it's easy to get totally lost, and it makes it far easier to understand the strategic situation if you have an image in front of you to which you can refer.

I, personally find that smoke grenades are useful on the field, mainly if some entrenched target is putting up stiff resistance, and the attacking force (us) is getting bogged down. They're also good fun, and do make games more interesting. Not essential though.

Carry a swab with you, it's embarrassing to have to borrow one, and a barrel full of paint makes you useless as an offensive player.

ID tags/cards, if you're using them, put them somewhere easy to reach, but where they won't fall out.

Also on my vest I have a pouch for pistol magazines, I may do a thread about pistol use in the future, but this isn't the place. Anyway, if I'm using it, the mags will be in my vest. As will some 12gs. The pistol itself goes in a right-hand drop leg holster. My left leg is always clear, so if I'm sliding I don't crush anything.

Finally, I have a utility pouch that is normally empty, it's good for putting small objectives in, such as if you have to collect 'artefacts'/objectives from the field. Which once lead to my carrying around 6 bottles of 'diesel' in my vest, weighed me down a bit. However, that's a story for another day.

Some people take snacks onto the field, I personally don't. Unless there are in-field safe zones then don't bother, because you'll have to lift your mask to eat anything.


Where does it go?

You dirty minded bugger.

Paint – I always have my paint in pouches on my back. 5 pods, all with the lids downward, similar to a pod pack. I did once have a vest with the pods on the front, though I disliked it for two reasons. Firstly, it preventing me from bending easily at the waist – the rigid pods just in front of my midriff were getting in the way. Not ideal when trying to play bunkers tightly.

Secondly, it prevented me from crawling. If I didn't use completely solid pods (no flex in them), then all my paint would break, and it generally didn't feel too clever. The advantages were that you can easily see the pods, and get them back in their pouches. Personally, I can do that just as easily with the pods behind me. See the picture of my old Armotech vest at the very top.

Broadly speaking, with my MOLLE rig I always keep the space in front of me clear, so I can crawl. Everything is on the sides or back.



Myself at the tippmann challenge. You can just see some of my pouches on my RH side, deliberately set to the side that they are not in the way when my belt buckle is on the ground.

Water – Personally, in a camelbak. Waterpods and bottles are well and good, but you will either need to use a straw (which I would easily lose), or pour it through your mask grill. I've never tried the latter, but I can imagine it's less than ideal. If you do use a camelbak, put the hose over your left shoulder, so that you do not open the valve with your tank/stock when shooting.



In this picture of me, you can see the placement of my paint, with the camelbak beneath it (hence the bulge).

Radio – If you're right handed, put it on the left upper chest area (as close to the edge of the vest as possible). This is so it will not get in the way of your tank/stock, and will not be underneath you when crawling. If it's got a screen, it faces you (presuming it's in a pouch); this protects it from incoming paint, and means you only have to marginally slide it out of the pouch to see the display. Otherwise you will need to completely extract it and turn it through 180 degrees before you can see what's happening.

Grenades – If you're using them, and you're right handed, they go on the right hand side of the vest. You reload with your left hand, and throw with your right.

Swab – I fold mine in half, and stick it through the MOLLE loops on the top of my left hand shoulder, so I can quickly grab it with my right hand and get it into the gun. You could also carry it in a pocket or pouch, I've just found on top of the shoulder to be the best option for me. See the above picture of me, the swab is visible on my left shoulder.

Air tank – When running remote, I have a pouch on the back of my vest, above my paint, for my 68/45. It is horizontal, with the reg on the RH side, and the line run under my arm. Obvious really.

Pistol mags – In a pouch on the lower LH side. As said above, you load with your left hand. 12g's go in a pouch next to it, so that i can hold the pistol in my right hand, and (guess what) load the 12gs with my left.

If you have questions, then post them up. I shall extend this as i see fit, and when there is enough interest to warrant more information. This is very much a work in progress, hence the current erratic placement of pictures etc.

Edited by JJ GBR, 19 January 2011 - 03:24 PM.