Hey guys, just wanted to share a tip thats been on the nation's dye forums for years now and i thought id pass it on to you guys. ive been using this site for years and i've yet to have a complaint.
if you want to build massive o-ring kits for your guns, go to the website www.mcmaster.com, and order your orings in bulk for the same price as a 10x rebuild kit.
its not as straight forward as it could be, since its extremely detailed, but once you know what to look for, youll be set.
***New instructions kindly provided by Morgan-Crp.***
***Be sure to tell him thanks!***
1. First off, go to
www.mcmaster.com
2. When the page loads up, youre going to want to scroll down until you see the section for "Sealing". Click "o-rings".

3. Then click on the box that says "Buna-N O-Rings"

4. A side bar will come up, at the top click O-Rings
5. Scroll down on the side bar and click
-"Round" for cross section
-"70 A" for Durometer
-"Buna-N" for material
6. Then scroll up on the side bar to ""AS568A Dash Number" where you can select your O-Ring sizes. Check your marker's manual for specific sizes. Here I used 011 as an example.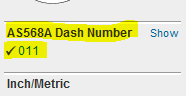 7. Then the window changes, there will be two blue links/numbers. Click the top one.
8. Next you need to select the number of packs you want, they come in packs of 100 so one pack will be enough..
Unless you have an O-Ring fetish..
9. Click add to order, and repeat for all the other O-Rings you need.
----------------
The orings come in clearly marked plastic bags. just go to wal-mart and pick up a $2.00 tackle box and youll be set with a 100X rebuild kit!
hope this helps everyone!
**** i should note that Urethane orings(the clear ones) that are found in some guns are fairly pricy, and since i dont personally order them from here, i didnt include them.
**** feel free to order them from this site, just note that urethane orings are not made of Buna-N(hopefully thats obvious) and the typical Durometer is "Shore A: 90" and not 70.
here you go guys.

the orings come in marked bags just like i said. they came to me in a padded envelope, but i didnt really bother including it.
the packing slip also labels the plastic bags they come in, so there should be any fear of getting the sizes confused.



Uploaded with ImageShack.us


combine the orings with a tackle box from walmart and some time in photoshop and you have a pretty functional tech kit-
front cover- an oring sizer (yes, that is oring monkey's oring sizer chart, i feel bad for removing their logos, but i didnt exactly have all the room in the world.)
inside cover- just some quick reference stuff for my DM. has which orings go where in the gun. also has some quick settings for my virtue board.




Edited by Pakistani, 28 February 2012 - 10:55 PM.