Well, let me start with a simple animation, of the Excal: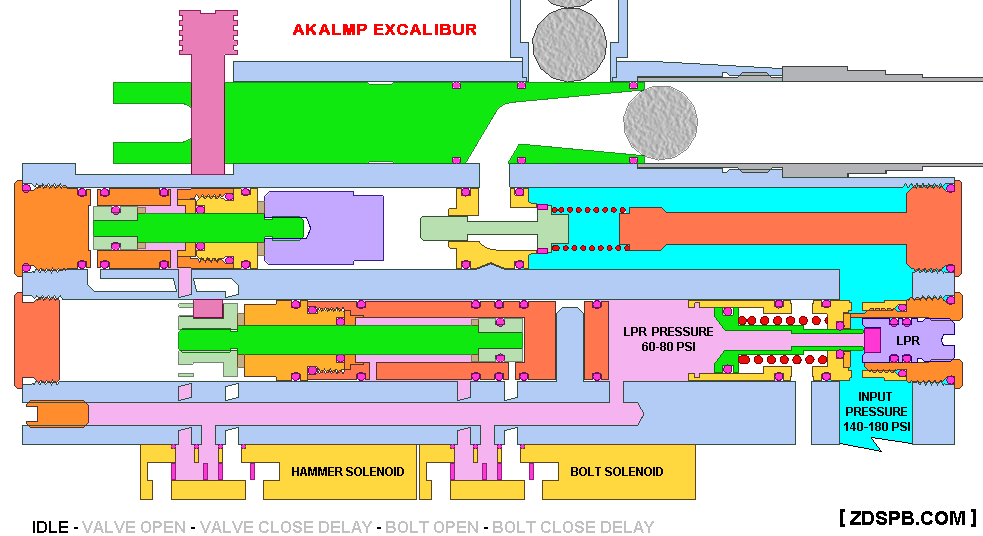 Not so simple I guess
. SO, what exactly is a viking or an excal?
Vikings and Excaliburs are markers that were manufactured by AKALMP 2002-2004.
Here
is their website. They were sued by Smart Parts in 2005, and instead of paying them money, they made an agreement to never make Electronic markers again. Their guns have a large following, and there is a common hatred among the AKA family of Sp, hence the FSP Faction. I think you can figure out what that means...
Why are they so BIG?
Well, back then, they werent. Vikings only weigh in at over 3 lbs anyways. Any woodsballer will call that light. I used to be a whiner myself about them, but now i just think that when I get my hands on some mini or something ill destroy. Anyways, automags are heavier.
What is the difference between a Viking and an Excalibur?
Simply put, a Viking is an open bolt and an Excal is a closed bolt. There are several other differences, but this is the main one. Excals use two humphrey solenoids, while the Vike uses one. Excals are also often more expensive, and personally im not sure why. I think they are just rarer. They are often heavier than Vikes as well because you cant get rid of excess metal along the top of the gun, unlike the Vike.
And why do they still have such a huge following?
First of all, you its pretty hard to get more custom than a viking. Take a look: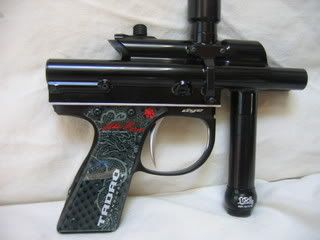 Vikings are hugely customizable. Here's why:
To begin with, they are relatively unmilled. This leaves a huge amount of milling options. The main people to go to for viking milling are Destructive Customs, www.destructivecustoms.com . They offer a large amount of options, from upgrading them with a Ultralite frame, To doing trayless mods or front cuts. Aside from the cost of the marker, it will be around 700 for a full tricked out Viking, plus annodizing. DC can send it to an annodizer for you. They are very helpful and respond to emails quickly. Most of the above vikings are from DC. Another place is Trantula, www.tarantulamfg.com . There work is absolutely gorgeous, and definetly stands out in the world of custom vikes/excals. However, you can expect to pay a pretty penny, and it takes a long time for them to respond to emails. And I mean a LONG Time. You can expect to wait MONTHS before a reply. You may get lucky, but dont get your hopes up. The legendary 'Bushido' Viking, the second to the bottom one, was done by tarantula.
All this is great, but why do people still like them?
1.There are some qualities to AKA that makes them truly unique. They are manufactured with a quality that is rare among guns today. We arent talking throwing in a tool kit either. Ask anybody, AKA=incredible quality. AKAs regs, the SST, 2Liter, and Sidewinder, are known to be the best regs you can get.
2.They have no kick. This is where weight is an advantage. These things are straight on target. Excals have even less kick than vikes, as the bolt cycles after the gun fires.
3.They are fast. UL Vikes hit about 50 bps. I know this doesnt matter much, but this means that the bolt is back and ready to fire faster, which is definitely a good thing.
4.They are extremely efficient. While I couldnt find anything to prove this, I usually on fill my 04 Vike with a 48/45, about 2 times in a whole day, and I go through 1.5 cases a day. Thats roughly 1500 shots per tank, which is extremely good for a gun from 04. They claim at least 100- shots per tank.
5.They keep up with guns that are being made today. When you first shoot a viking, you will know what I mean. I personally think AKA had a time machine and went into 2008 and based there guns off the guns of today. They may not be the lightest, but they compensate with high effiency, low kick, and fast ROF.
HOW TO BUY
www.doropaintball.com has 04 Vikings and Excals STILL IN STOCK. Yes, they are expensive.
www.destructivecustoms.com Sells vikings as well. They will hook you up with whatever milling/anno you want as well.
www.akalmp.com still has some vikings left as well. They will be pretty expensive also.
USED- look in the BST in several different forums.
www.akaog.org- AKA owners group
www.pbnation.com
www.mcarterbrown.com
these are the sites with the most vikings commonly available. When buying a viking, make sure you look at the condition, the board in it, the extras, and whether it has eyes.
Condition: Obviously, dont TOUCH a Vike or excal that has been touched by a Dremel.
Extras: See whether it has the original Sidewinder it came with. If not, value goes down. Ask if it has a SCM III, they will help the value. Check to see if it has a Javelin barrel also.
Board: Nelson boards are BAD. They only have Semi auto. BAD. WAS boards are in the middle, decent. Pandora boards are decent as well. The best are Tadao. again, the heirarchy:
1.Tadao
2.Pandora/WAS
3.Nelson
If the gun has a Nelson, offer a lower price.
Eyes: these are worth significantly less if they do not have eyes. About 100 bucks less.
Also remember, a Vike is not worth as much as an Excal. Just a fact of life.
~~~~~~~~~~VIKING PRICE GUIDE~~~~~~~~~~
organized in price, from low to high.
2003 Viking, no eyes, Nelson board, unmilled. $200-Excellent condition $150-Meciocre $100 Bad
2003 Viking, no eyes, WAS/Pandora Board. $220-Excellent $170-Mediocre $120 Bad
2003 Viking, eyes, Nelson Board. $300-Excellent $250-Mediocre $200-Bad
2003 Viking, eyes, WAS/Pandora. $320-Excellent $270-Mediocre $220-Bad
2003 Viking, eyes, Tadao. $350, $300, $250
2003 Viking, milled. $450, $400, $350
2003 Viking, anno. $350, $300, $250
2003 Viking, milled, custom anno. $500, $450, $400
2004 Viking, unmilled. $400, $350, $300
2004 Viking, unmilled, Tadao. $450, $400, $350
2004 Viking, unmilled, anno. $450, $400, $350
2004 Viking, DC Milled, anno. $750, $700, $650
2004 Viking, DC FSP Milled, anno. $850, $800, $750
2004 Viking, DC custom milling, anno. $900, $850, $800
2004 Viking, Tarantula milling. $1400, $1300, $1200
other "special" milled guns:
Highlander Viking: $1200-$1400
JmJ Featherlite $700-$800
Half-mill $350-$450
Valhalla $1100-$1400 (not sure, price hasnt been revealed yet)
Immortal $900-1100
PBX $1000-$1100
+SCM III add $30
+Mitey max add $30
+STDLPR add $60
+2liter add $80
+SST add $100
SPECIAL, Unique, 1 of 1 Vikings and Excals.
MQ Bonebreak Excal. Currently for sale on the nation by Yuik. This is the only working Excal with an MQ valve in it, and It features a rare Bonebreak milling. Asking price is $1350.
Bushido Viking. Likely the rarest and most beatiful viking around. It is tarantula milled with an ultralite frame. It is currently owned by A-Tach-one on the nation, and will probably never switch hands.
Joker Viking. I couldnt find a picture of it, but It has HAHAHAHA lasered all over the purple green fade anno. It switches hands frequently. Im not sure who has it right now.
If there are any others im not thinking of, remind me
.
not done yet, but i have to go. feel free to comment.
Edited by the man, 17 January 2009 - 10:25 AM.