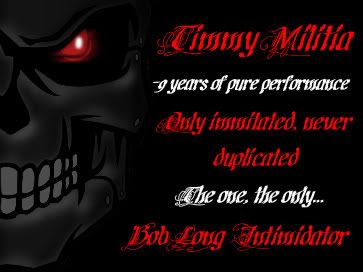 1. To join you must post at least 3 pictures of your intimidator or 1 picture with your username in it. 2. You will be added to the list once accepted. 3. Stay active or you will be removed. 4. Discuss anything to do with intimidators, such as problems, modifications, things you've done to your gun, personal opinions of timmies, etc... Post at your own risk. Double posters will be flamed. Absolutly no B/S/T. 8. Trolling will not be tolerated. 9. Off topic talk will be accepted, but don't go overboard. 10. Try to keep the "vs" posts to a minimum. 11. Be respectful
Council Member Powers: 1. If a member of the Timmy Militia is getting out of hand and could lead to the TM being shut down than the president will pm the council members and we will discuss the best way of dealing with it. 2. If the president should step down at anytime than the council members should vote on the next president of TM, to become president you must already be a current council member. 3. If a fellow council memeber should step down at any time than the president and council will decide who should be the next council member 4.It is also up to the president and council memebers to help moderate the TM, try and keep anything against the rules to a minimum in here
President: Shishkabob(Anthony)- 2k5'd Texas Storm Intimidator, Ripper2
Council Memebers:
alex5947- G6R
themole-alias, dragon, empire 2
whats_an_a5- Ripper1, Species, Empire1, Gen 3 Shocktech, Ripper 2, Dragon
Sweet V- Species, Dragon, Aim & Russian body(projects?)
Trum_15- G6R
Members list:
Danath 34- 09 Alias
Gabe @ Lurker Paintball- G6R, Alias
meatloaf- G6R <BR>Snipez4664(Lurker)- 2k2 Timmy
Razgriz183- G6R
phenn777-alias
RapperAsInTheGun- Ripper 3, ND
R-M-I- Alias, Ripper 2, Vice, Vice, Empire 2
Themole- Alias
xMTx- Ripper 2
apocalypsenow- Ripper 2
ckon3- Ripper2, Vice
ABOMBER760- Russian Legion, A-bomb
MUNK3H- Ironman
SOUP- Dragon, Alias
Vlocityfan104- Alias
CHIpballer623- G6R
hill- Ironman
lovebunny- alias, ironman, A-bomb, Vice, BL cocker
Calais- Vice
Striker- G6R
Boot- Alias, Lasoya
Mexico- A-bomb
Jballer- Alias
natearab- Vice
Dust- Classic
I Love Flex's- Alias
Kirko017- Alias
kawasaki.kdx200man- Alias
Saucy27- Spimmy(soon to be ecx?)
I_Am_Mexican- Alias
Beau A- species, ripper3, flame, and an empire1
Dublin- G6R
Tenny- Custom milled aim body 05 timmy
Peanutwing- Vice
ThunderLights- Vice
Drewwho- 2k5'd ironman timmy
tripp- alias
Hebiki- 2012 dust black and teal G6R
LV Backpacker- Ripper2
Edited by shishkabob, 06 February 2012 - 11:50 PM.