Yes, thats right Matt's Outback Paintball located in Coventry, CT is back at it with a 3man. The Event will be held on June 25th and will be used as a test event. If enough teams sign up and we get a good response well hold more.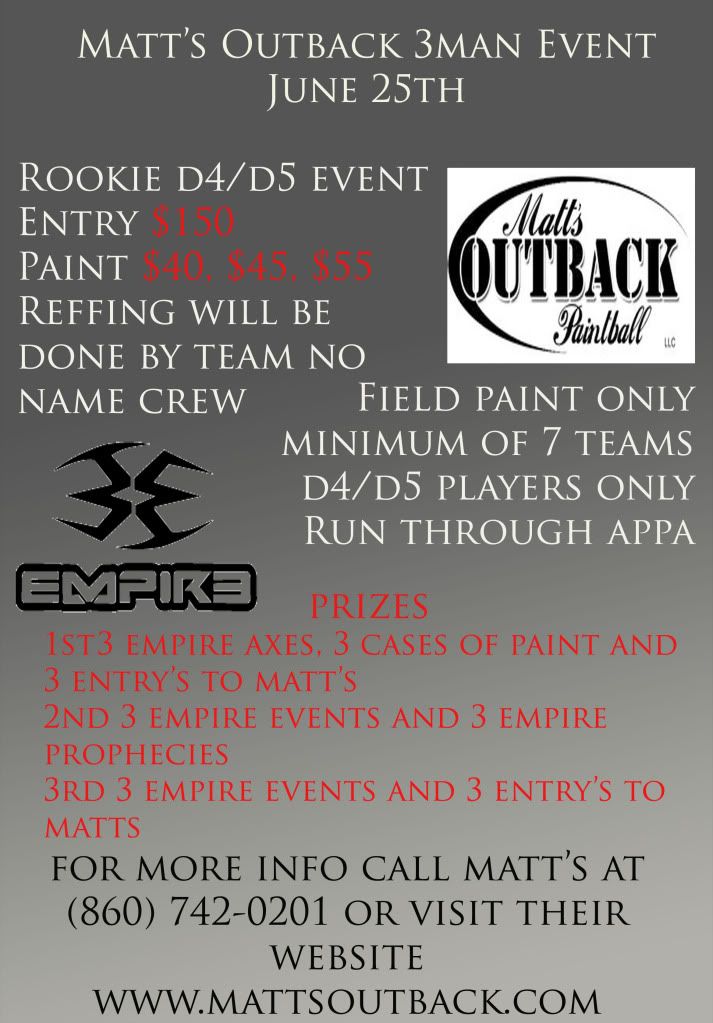 This event will be a Rookie tournament with a D4 cap. The event will be run through APPA. That means you will need to submit rosters online. You can pay online or at Matt's Outback. Entry up until June 16th will be $150. Entry June 17th to the 23rd will be $180. The deadline to have rosters updated and entry paid is the 23rd. The event is Field Paint Only and we will offer multiple grades of paint at $45, $50, and $60 HOWEVER paying with cash will get you a $5 discount on paint. As for format it will be uncapped semi. Each team will play 6-9 prelims, if there is under 14 teams the top 4 teams will move and play each other once in semi-finals. In finals the first place seed plays the second in a race to 3. The third and forth place teams will also play a best 2 of 3. More than 14 teams the top 6 move on and we amp up the prizes. As for Points:
Alive= 4
Eliminations= 6
Flag Pull= 20
Flag Hang= 50
Max= 100
Now for the good stuff the PRIZES
First Place gets 3 Empire Axes, 3 cases of paint, and 3 entry's to Matt's
Second Place gets 3 Empire Events and 3 Empire Prophecies
Third Place gets 3 Empire Events and 3 Entry's to Matt's
Fourth Place gets 6 cases of paint and 3 Entry's to Matt's
IN CASE OF 14 OR MORE TEAMS
Fifth will get 3 cases of paint, 3 Entry's to Matt's, and 3 Matt's Outback Longsleeves
Sixth will get 3 Entry's to Matt's and 3 Matt's Outback Longsleeves.
Start Time: Event will start promptly at 9:45 am. Field will be open at 8:30. Check in will start then and there will be a captains meeting at 9:30 before games start.
ID's: We will have rosters printed out and will be checking in players. Players will need some form of id whether it be: Driver's License, School Id, Another Appa id, etc. Any questions post up or message me.
As for media:
Since I'm a nice guy we will have photographers provided along with coflo1616 productions to make a video of the event.
Any questions Post here, PM me, or call or email matts outback.
**EDIT**
I will post the appa link up when the event is online. It is currently being set up.