Welcome Fellow Technical Paintball Members and forum Lurkers. My Name is Austin, And today I shall be putting My Beautiful AGD Tac One On the market.
Just As a Formal Introduction, This marker was made in 2007. Sold in 2007 to Me, There have been no other owners. This marker has been taken care of, cleaned, and consistently maintained through the years of playing. I have Tuned the Level 10 and the ULT personally and for 3 years I have not Had to tinker or change it (Meaning, I did it
RIGHT
)
as per Forum Regulations:
Marker: AGD Tac One
Condition: Excellent
Color: Black
Upgrades: ULT Pin, Freak Bored J&J 2 Piece(comes with 0.689 insert) , RPG Sub-Zero Feed Neck,
Level 10
Brand New Detent
Known Problems: Barrel Scratches and there is a small scratch under the Barrel Shroud. Which you cannot see unless you have Super Vision like me.
Asking Price:
400$ Canadian Shipped.
Shipping Options: UPS (Canada post is on Strike)
Trades of interest: Selling this marker only, Tried the Trade thing, didnt work.
Location of item: Whitby Ontario Canada
What is Included: Original Box, O-ring Rebuild Kit, Extra ASA, Braided Steel Line, Extra Detent, Shrink Wrap, 3 Main Springs, ULT and Level 10 Shims and Parts, Black Hose Fittings AGD Stickers and AO Forum Member Card
I'm Selling this to fund My phantom Project and to Split the Rest into my University Funding. a Physics Major does not pay for itself! I'm a proud Member of the Techpb Community. Although as per MY SALE. I need to receive the method of payment (Pay-Pal or if a Trade then the Marker) First. Before I ship out my Marker.
Thank you for understanding.
on to the good stuff shall we. First two pictures are rough as they are phone pictures from this morning, The Rest are Camera Quality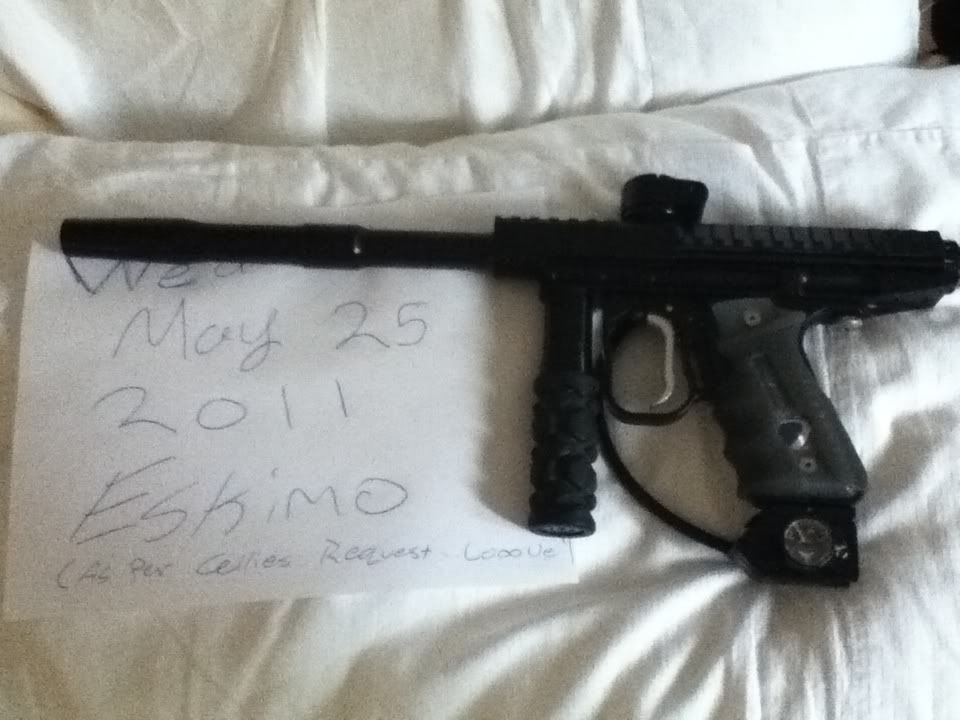 Freaked J&J 2 Piece:
Front Of The Marker:
The Marker:
The Tac Ones Booty
The Breach [note This is the Stock Feedneck and I cleaned the sand out:P]:
Tac Ones Candid Upskirt
Trigger:
Valve Serial Number:
Extra pictures:
Stickers/Parts:
Also the DP RAPS ASA Does not have a functional Gauge. Sorry. I Traded out to another kid who's gauge didnt work (mind was functional at the time) so He got the working one and I took is Broken one, It still Functions as a On/Off ASA perfectly
For more pictures of the Tac One and a Full Review of it Please Click the Green AGD Tac One In my signature.
Edited by Eskimo, 13 June 2011 - 05:27 PM.