I have seen lots of discussion on different forums where new players will ask "what do I need to bring" to their first scenario game. Although the correct answer to this question depends largely on what you own, I break it down into a few different categories:
Things required to survive and participate in the first place
Things required to play
Things that support things required to play
Things that are nice to have
This is the level of stuff that
I
feel comfortable with. Some people will say I'm foolish for not bringing a backup marker, hopper, tank, and car... while others will say I'm a pack mule that brought a lot of unnecessary stuff. I do tend to lean toward the conservative side of things, but I try not to go overboard - so I've gone with what I call a "reasonable and prudent" selection of reliable products that are durable enough and perform well enough to get me through a day's play with a reasonable expectation of reliability.
A special note for new players: If you are just starting out and you haven't got half of the stuff that I list... don't worry about it. Bring what you have, bring some water, and a positive attitude - I promise you will still have fun even if you've got a rental 98 Custom, gravity hopper, and 9oz CO2 tank.
In order to have an example of what I'm talking about, here is my one day, fair weather scenario loadout: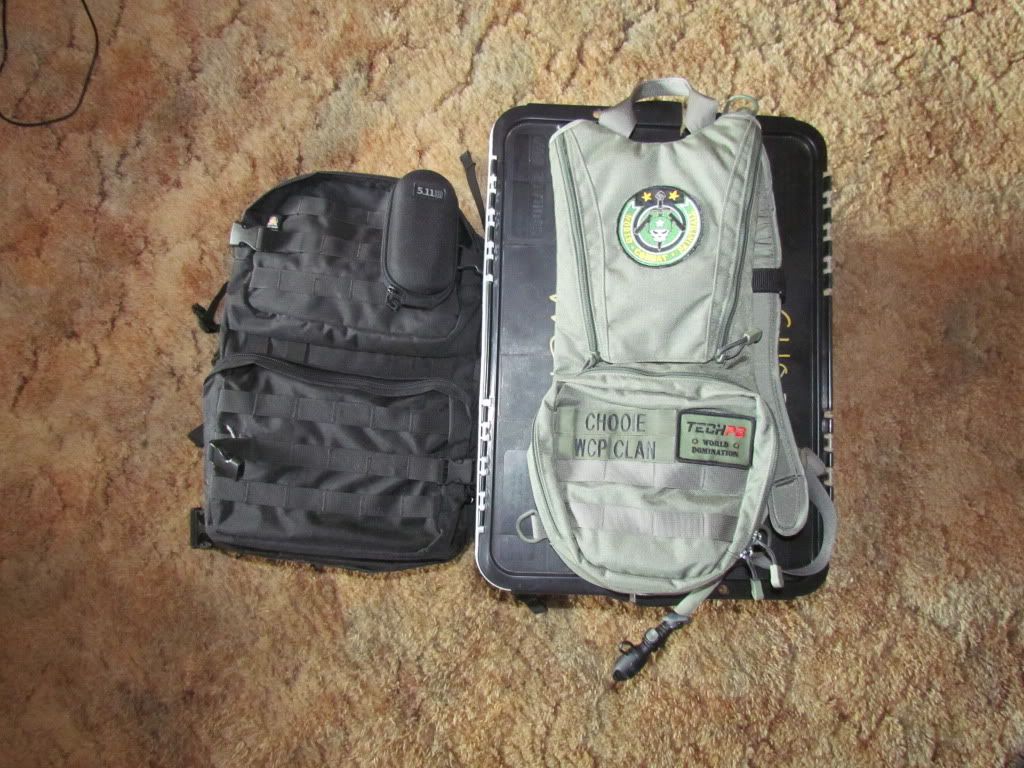 Doesn't look like much, huh? Well, let's go through from the top, and I'll explain along the way.
Things required to survive and participate in the game in the first place
Hydration. I have elected to use a Camelbak for this purpose, but you can just as easily use a cooler and bottled water (or both).
Entry/Paint fees
Lunch (money or packed)
Vehicle/fuel
other emergency supplies (flashlight, cell phone, first aid kit, etc.)
Things required to play
fully functional and maintained paintball marker (including barrel, fresh battery, ASA, macroline, or anything else you may have scavenged for another project)
CO2/HPA tank with current hydrotest
loader of some kind (anything from a 10 round tube to a 400 round Pinokio will do)
Playing attire (pants/jersey if you've got them, socks, cleats/boots, pads, headband/sandana)
Civilian attire (to wear to the field and to change back into on the drive home)
Mask (with new/newish lens in good condition)
Pack or vest with pods
Barrel blocking device
Squeegee/swab
Things that support things required to play
Tools
Lube (I keep Monkey Poo, Dow 55, and Triflow in my toolbox at all times)
O-rings
macroline
Loctite
Burst Disks (1.8k and 7.5k)
Batteries (1 set of every type you use, and then 2 more 9v on top of that)
Microfiber cloths
anti-fog spray or cleaner
work mat
large towel
folding chair (since YOU are required to play)
Things that are nice to have
Paintball Caddy
HD mask camera
Barrel kit or other specialty gear (pistol, launcher, tank, etc.)
Trash bags for dirty and wet gear
Radios (required item for my team)
spare pods
spare anything else you can think of
Everything listed above is stuffed into that tote and backpack, with the exception of the folding chair that is already in my truck.
Here's how it breaks down: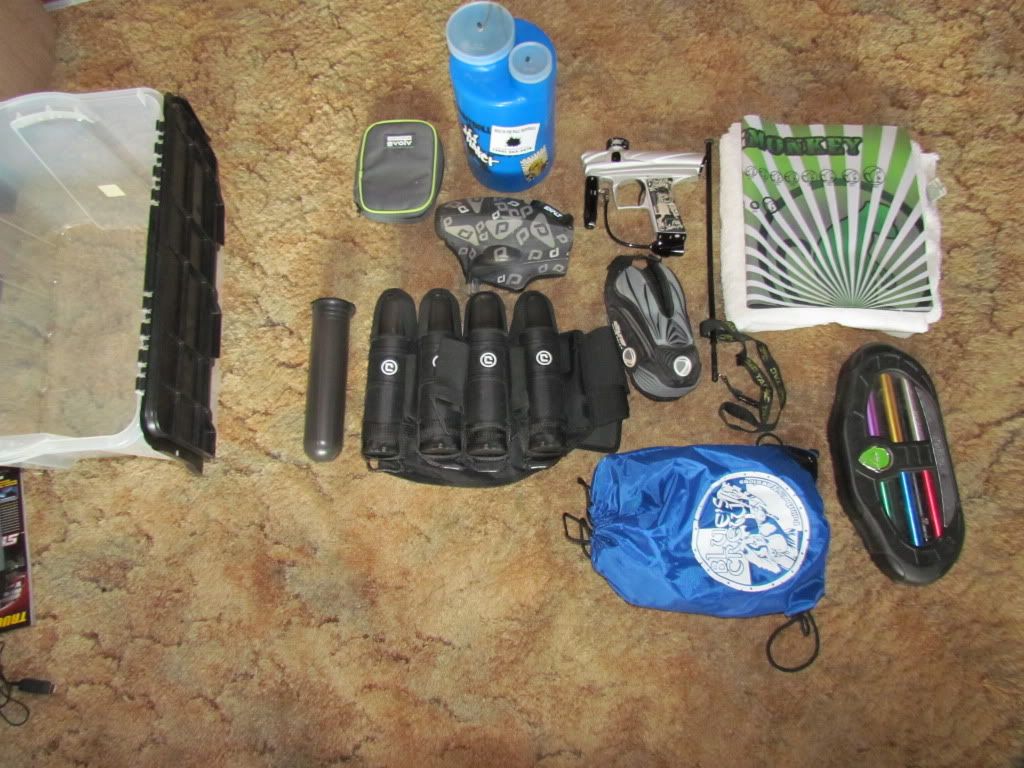 Everything fits snugly and is well protected within the lockable tote. My cleats are in the Blue's Crew bag. Note that I have the caddy inside the tote, but...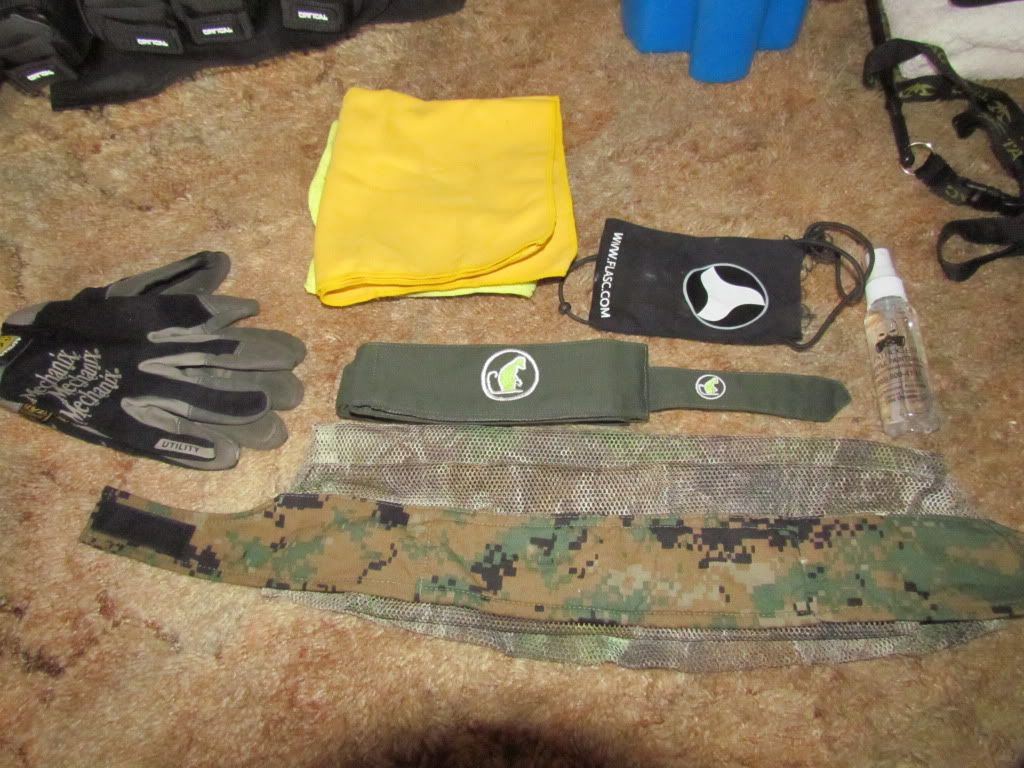 The caddy itself stores smaller items, such as cloths, gloves, BBD, etc.
Inside the backpack I keep my tools, attire (except for cleats), mask, Apex 2 freak front, and electronic stuff (cell phone, netbook to offload videos and charge the Drift HD camera).
Please note, that the above list is by no means comprehensive enough to satisfy everyone, and I've left off a lot of things that I would bring to a full weekend event that I didn't feel were necessary for a one day game.
Edited by Chooie, 17 August 2011 - 05:19 PM.