The Citrus Connection Scenario Tour

Proudly Supported by TechPB and Kommie Konnection

Man the fuck up boys! peel it back! We're going back in!
First off a big shout out to anyone who crushed the humans with me at Wasaga, I had an absolute blast with you guys so we need to do it again. Spaced out in time for us to save up some money and get motivated and itchy to shoot our opponents once again I've talked to Flagswipe Paintball about us attending Day of the Dead 10. It's in London Ontario on Sunday October 2nd, I already know that the Devil Dogs plan on attending as well.
Day of the Dead 10
They have a full trade show too so I'll be setting up the TechPB booth again for us to chill and mingle with the crowd. Many of the same vendors will be there as were at Wasaga including Underground Productz and Tippmann. I'm going to be talking with the General Manager of the field soon for more details.
So, here is what I'd like to happen, we get more organized for this event and we get a list going for members of the tour. No you're not expected to attend every event but it'd just be cool for everyone to stay in the loop. We should also get together on working on radio comms as well as any other details.
Also, I think we should make habit of siding with the "bad guys" team for each scenario since many of the bigger teams and pre-regs go with the "good guys", Aliens vs. Humans for example. I'm sorry, I like fighting the odds and coming out on top and claiming a win for the bad guys lol.
Tour Members
DOTD10
CONFIRMED COMING
-ORaNGe-
pinkyy
CdnNinja #234
Forrest #235
DubGeek
Cap'n Biff #232
hurstman41
hurstman's dad
Noodles
Taylor519 #366
ZigZaggula #274
Zig's +1 #304
Z3R0 #339
Z3R0's +1 #340
Z3R0's +2 #341
Lake
Lake's +1
Lake's +2
Lake's +3
Lake's +4
bcpainter
bcpainter's +1
bcpainter's +2
bcpainter's +3
bcpainter's +4
Affiliated teams (not under our group #'s)
Devil Dogs
Gatekeepers
note: A few of the confirmed players have a few people coming with them or maybes, I'll list them as they sign up. I personally HAD 8 guys, but lost 4 to a hockey practice and one just flaked. I have 1 army guy who had his shit shipped here just for this game so I should have a few extras as well as maybe Cdn and Ghillie as well as Dub.
Said they're coming but yet to register
D0m3r
Maybes
Eskimo
justchase
-Dublin-
CanadaBaller
[/b]
IMPORTANT
The promo code seems a bit messed up YOU WILL ONLY GET THE SAVINGS IF YOU ENTER THE PROMO CODE IN THE PROMO CODE BOX ON THE FIRST PAGE THEN IN THE "COUPON CODE" BOX ON THE SECOND PAGE. If you only put it on the first page you WILL NOT get the savings and probably won;t have yourself counted toward our numbers. Here is a screenshot of where you have to put the second coupon code in. Once you move onto the third page it'll show your savings, if it doesn't show the savings on the next page the promo code did NOT work.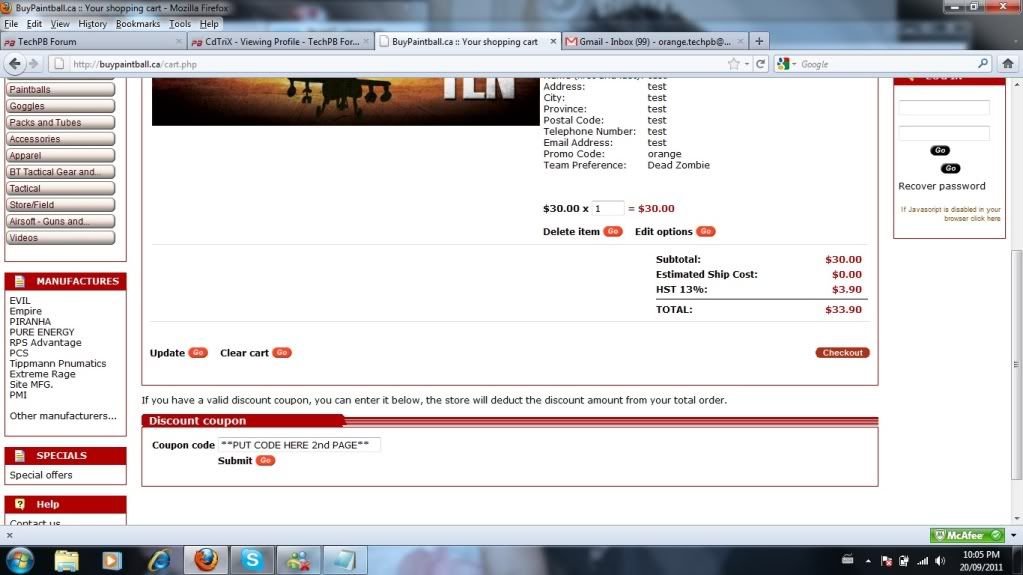 Here is the itinerary for the day of play. Again, if anyone needs any info or assistance with any let me know and I'll hook you up.
Here is the schedule of events for Day of the Dead 10
October 2nd 2011 Flagswipe Outdoor Paintball
7:00 Entrance Gates Open
7:30 Registration, Paintball Sales, and Air/CO2 fills open
7:45 Chronograph (AM stamps on player card) and Target Range open
8:00 Retail Tradeshow Opens, Coffee and Concessions open
9:00 Referee Meeting and Final field safety inspection
9:30 Helicopter arrives
9:40 Zombie and Human Generals Address the crowds
9:45 Safety Speech and Event Rules Overview
9:50 Teams take the field heading to their respective main bases
10:00 Mortars sound to announce the start of battle
1:00 Lunch Service Opens
1:00 Chronograph recheck (PM stamps on player cards enforced)
4:00 Teams pulled off the field for cease fire to re supply before final battle
4:15 Final Insertion to main bases
4:30 Final Battle starts
5:00 Game Ends
5:30 Awards and Prize Ceremony