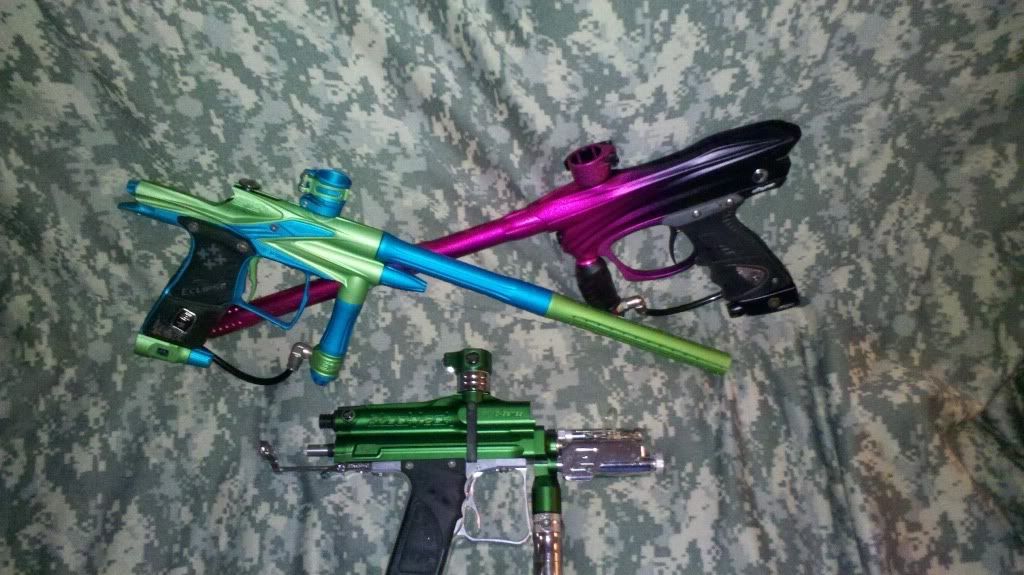 ON HOLD for 30 days
Marker: Planet Eclipse SL94
Condition: 9 out of 10, normal anodize wear given the amount of use...
Color: 1 of 1 PE certified Poison
Upgrades: E-Portal compatible ego10 style board
Known Problems: none
Asking Price: 1100 firm
Shipping Options: USPS
Trades of interest: none
Location of item: Littleton, NH
What is Included: Marker, Case, Matching SL barrel kit, replacement SL94 screen and button pad, replacement stock SL94 board... SL parts kit, spare parts kit, PE oil and allen keys
this gun is a custom anodized Poison color scheme... this was made for a product tester, and was the test gun for the poison ego10 anodize... its a matte finish, so it looks different in different light, its not as dark as the poison ego10.... that being said, the price is set high because there isnt another PE Certified SL94 like this out there, it was a 1 of 1 Jack Wood did for Farhan (Vicious49 on PBNation)... i will include a link to the rare and unique ego thread over there so you can confirm that this is his gun.... i may or may not include the prototype/test parts this came with, as Jack was ok with me getting my hands on them i want to honor that trust, so dont be surprised if you have to re-adjust the dwell and LPR/HPR once you get it, i dont have the air to do it myself... i will not ship international, lower 48 only.... this will be very very hard to get out of my hands, as its one of my most favorite guns ever.... i was actually tempted to sell the DC2 over this.....
http://www.pbnation....d.php?t=2812059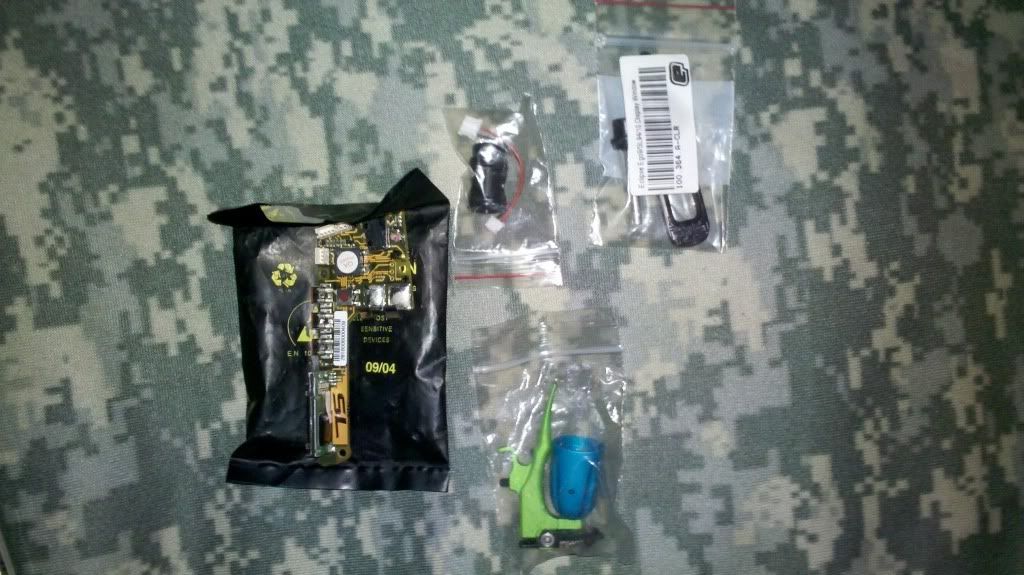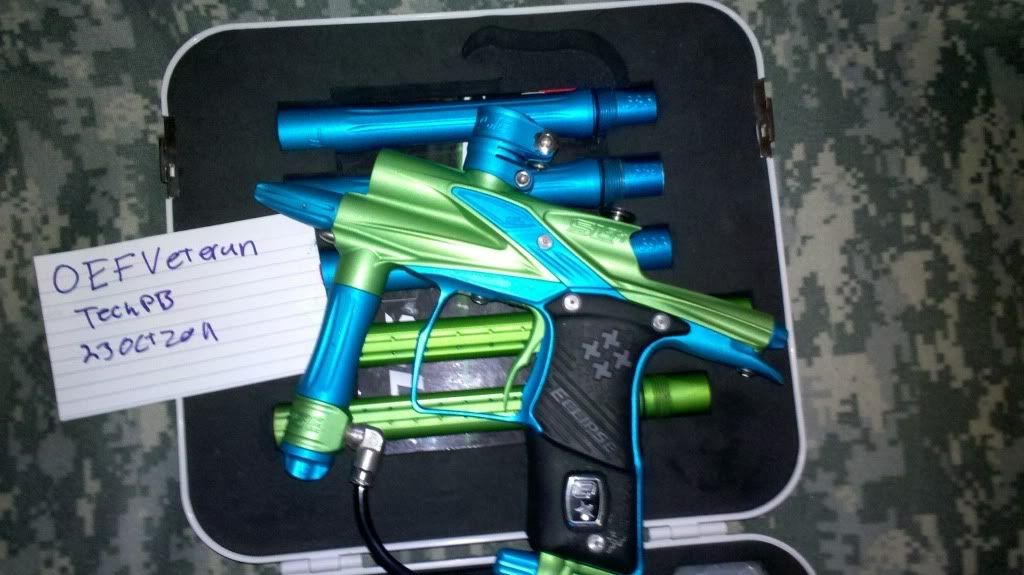 Marker: Dye DM8, 1 of 20
Condition: 9.5 out of 10, gun was babied... and never loaned out...
Color: pink to black fade
Upgrades: Lurker Eigen Ring, Hater board, DM9 eye pipe, CP Continuous flow plug, Violent Trauma DM7 trigger
Known Problems: none, needs to be tuned for the Eigen Ring, LPR is tuned, dwell is not
Asking Price: 475
Shipping Options: USPS
Trades of interest: none
Location of item: Littleton, NH
What is Included: DM8 eye pipe, 2 DM9 eye pipes, Stock trigger, Stock on/off flow plug, stock board, DM9 parts kit, DM8 parts kit, o-ring rebuild kit, spare solonoid, tool kit (missing one allen key) 2 tubes of dye lube, stock pink UL barrel, GXG Global gun case
before you start crying about the price, its set high becuase of all that comes with this gun.... gun has maybe 10 cases through it, its in like new condition, and is a rare anodize color, dye says 20 were made, less then that went out into circulation... and in the last 2 years i have only seen 2 of these come for sale on PBN... the gun is highly upped, and shoots amazing, its my favorite spool made to date...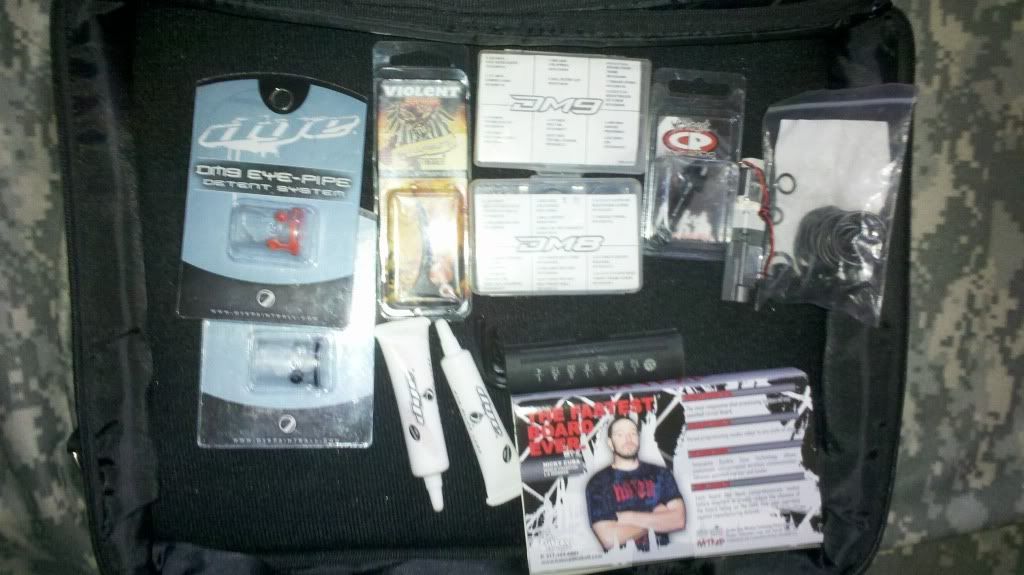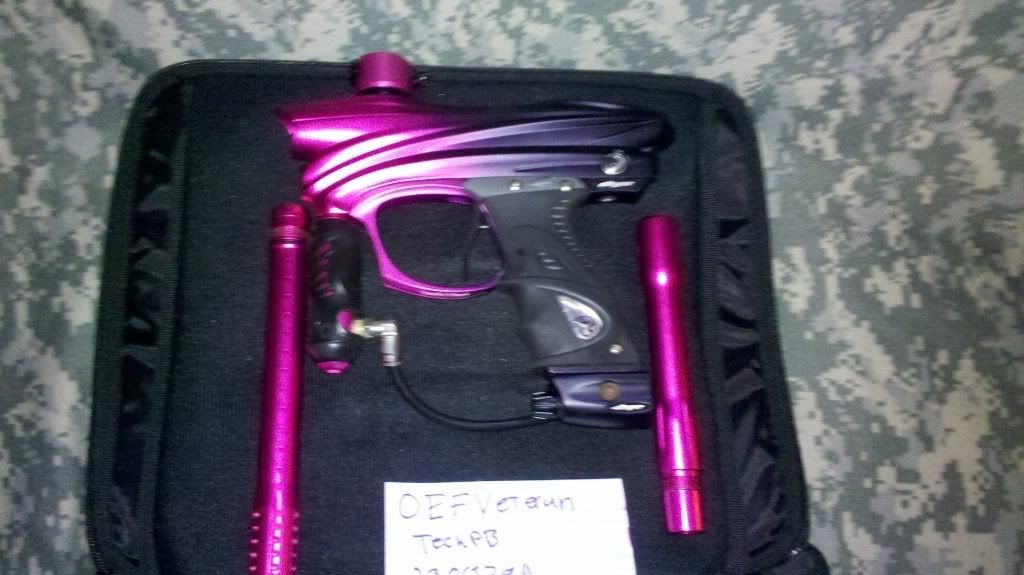 Marker: 2004 ShockTech E-Series SFL autococker
Condition: 8 out of 10, signs of wear and tear, but in great condition for a marker of its age
Color: Green and silver
Upgrades: NDZ frame, DC2 E2 board, clamping ST feedneck, color matched, Eclipse ram w/QEV's
Known Problems: havent been able to test the timing or tuning on it since i upgraded, out of air, if it sells before the 30th then its sold as is, otherwise i will air it up and tune it next time i play
Asking Price: 500 for cocker as is, 600 for cocker with factory chrome e1 frame (complete internals) w/asa and ST ram....
Shipping Options: USPS
Trades of interest: LP or ELOP output tank reg with 68/4500 bottle or 56/4500 bottle, cocker pumps plus cash
Location of item: Littleton NH
What is Included: only whats listed above
this is a very rare cocker, not many were made, and they rarely come up for sale... thats why the price is set as it is... and thats lower then what i really want for it... i did shoot this when it was set up as an e1 and it is the second best cocker i have ever shot, second only to the DC2... that being said, it doenst shoot like a cocker... its smooth, its fast, its quiet, and its fun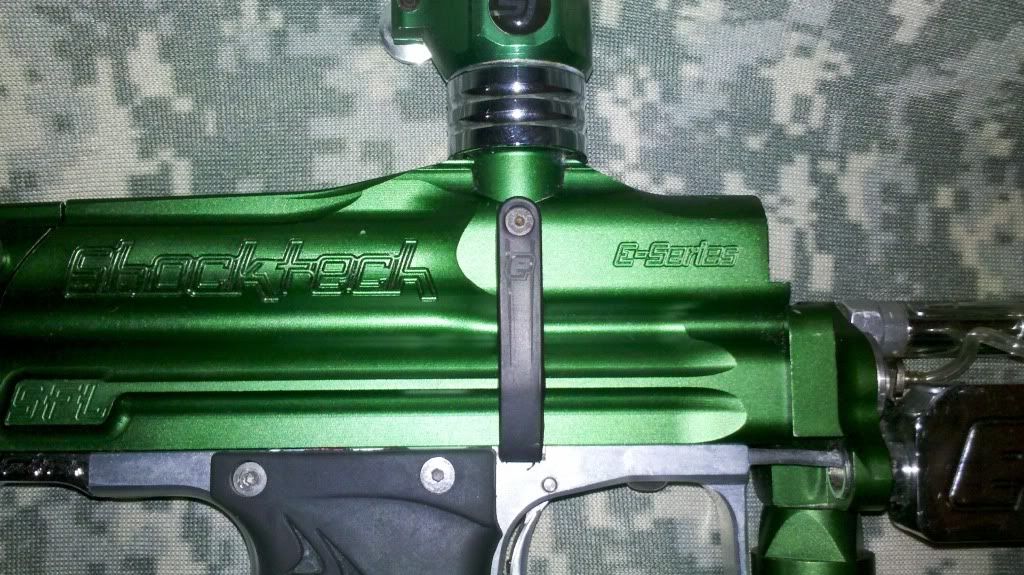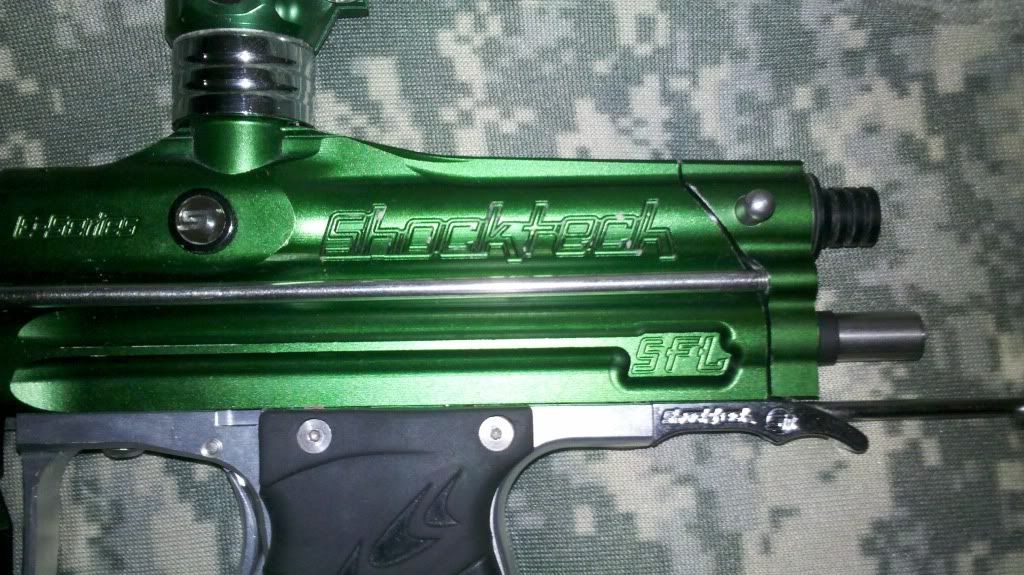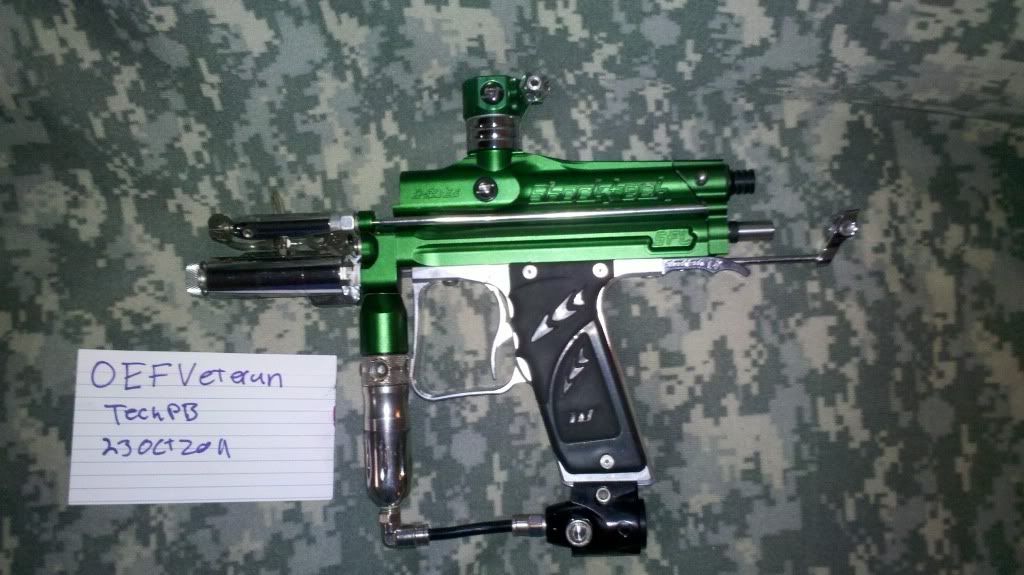 the dates are of on the next 2 ads because i pulled them from y gear bag sale which i am closing....
Marker: REd Acid E-Mag, 1 of 16 factory anodize
Condition: 9 out 10
Color: red acid wash anodize
Upgrades: none
Known Problems: none
Asking Price: 650 obo
Shipping Options: USPS
Trades of interest: entertain me
Location of item: Rochester, NH
What is Included: everything in the picture minus the x-valve, plus you get a spare battery pack, freak bored barrel, as well as a spare sight rail and a warp left milled rail.... all factory red acid... remember, these are very very rare, only 16 made from the factory

these are very rare, and its in great condition, if you have any question and the red acid, feel free to ask me. its my friends mag, so all offers will go though him, as will questions
Marker: custom Ellia Milled 06 Cyborg, 1 of 8 milling
Condition: 9 out of 10
Color: grey with blue splash
Upgrades: match anodized freak back
Known Problems: none
Asking Price: 550 obo
Shipping Options: USPS
Trades of interest: entertain me
Location of item: Rochester, NH
What is Included: whats you see pictured

i will entertain 2-4-1's for the mag and borg, the owner really wants an SL94, Krypton ice preferred, or other white bodied SL94's, as well as the granite stealth. feel free to offer up, but i will only accept high ends in the owners favor, meaning no mid or low ends, and no axes or geos.... including the geo2 and geo2.1....
Edited by OEFVeteran, 14 November 2011 - 05:51 PM.