TABLE OF CONTENTS

SECTION ONE: USEFUL LINKS
SECTION TWO: MARKERS
SECTION THREE: OLD MARKERS
SECTION FOUR: AIR SYSTEMS
SECTION FIVE: LOADING DEVICES
SECTION SIX: BARRELS
SECTION SEVEN: PUMP KITS

SECTION EIGHT: STOCKS
SECTION NINE: DETENTS
SECTION TEN: PHANTOM TECH
SECTION ELEVEN: PHANTOM UPGRADES
SECTION TWELVE: AUTOCOCKER UPGRADES
SECTION ONE
USEFUL LINKS!
AZODIN PUMP SHOOTING
TRINITY PUMP KIT INSTALLATION
AUTOCOCKER TO PUMP CONVERSION
PAINTBALL PUMP SHOW- TECHPB
MCARTERBROWN.COM

A GUIDE TO PUMP SHOOTING
WHAT PUMP SHOULD I BUY?
STOCK CLASS VERSUS OPEN CLASS
HOW TO BUILD A CUSTOM COCKER
SECTION TWO
MARKERS
Maverick or Tracer - These guns are usually suggested as begginer markers due to their price and maintenence-$60

Maverick/Trracer

Phantom
: From $200- $400 depending on the customization
cci_Phantom_Stock_Class_Pump_Paintball_Gun.jpg
17.52KB
49 downloads
Grey Ghost----- The big brother of the Phantom, Stronger parts, and as they do opperate the same the Grey Ghost Clocks in at $300
Reduced: 32% of original size [ 1992 x 1328 ] - Click to view full image
RTR Gargoyle Coming soon--- Again, think Phantom, this is a highly machined, super efficient stock class pump, the retail is belived to be in the $600 range and it is still in production. Very fine grade metals and parts were put into this pump - $600
AutoCocker
: From $100- $600 depending on the cocker
By
andres513
at 2009-
PGP PISTOL- Ok, these were maybe the 2nd? 3rd? Paintball gun out, they cary 10 rounds, have a small pump in which obviosly, you cock every shot- $50-$150
Some Old BE Pumps, The Night Mares, I belive these retail used at about $100 ea now. Don't quote me on that one.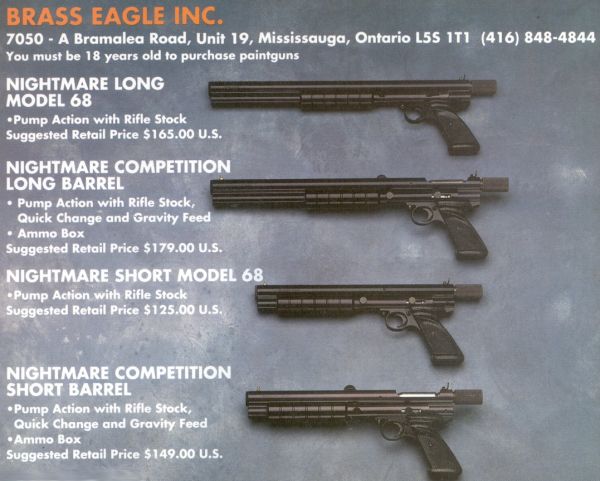 Karni Pump
theres a million kinds of snipers plus theres already a few posted
AZODIN Kaos Pump
$150 or $149.99
By
andres513
at 2009-02-21
Chiply Guns-Incredible preforming guns, that are said to be some of the smothest and best over all running guns. They have an almost similar design to an AutoCocker and run around $550-$600
Chipley S6
Reduced: 80% of original size [ 800 x 532 ] - Click to view full image
Chipley SS-25
I know some more information needs to be added to this section, but it is better for me to shut up then make no sense with the
PMP industries guns.
Carter Buzard. A very high performance Stock Class gun, light, efficient $500
Desert Ducks
. $1200+
By
andres513
at 2009-02-21
Tippmann Pumps

And basically any other pump not mentioned here.
If you have any information regarding these markers or anyother that I left out. Please PM me or post here. We need a guide to cut down these questions.
SECTION THREE: OLD MARKERS

The Crossman 707 THE FIRST paintball marker
Another Crossman 707 with a model 25 air pistol
Nel-Spot 007 second production paintball marker and the first to be used for the sport
Pmi P Series Short Barrel
A slightly larger back bottle direct feed brother to the PGP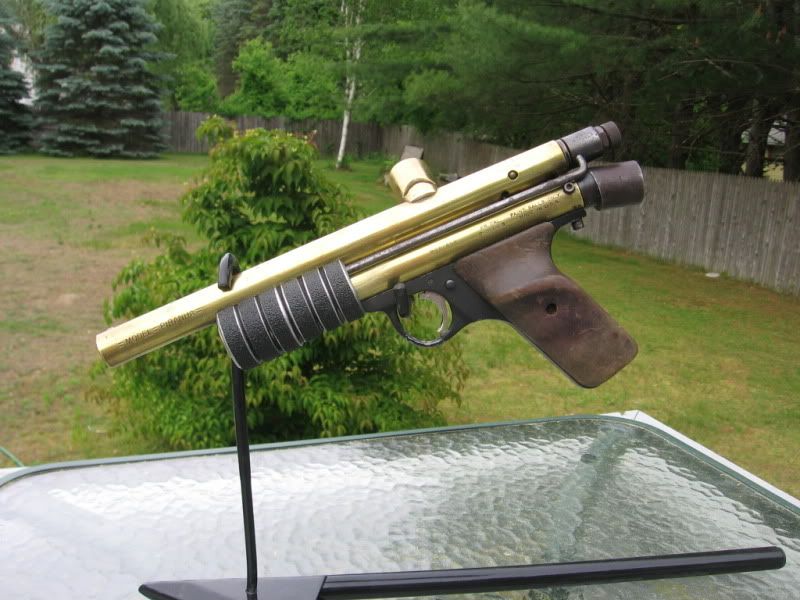 Sheridan P12
This was built as a 12 gram dirrect feed marker but this one is set up for a back bottle
Sheridan P Series long barrel
The Sheridan K Series Rifle
These are some of the most sought after of the Sheridan Line of markers
This a KP2SC with tilt feed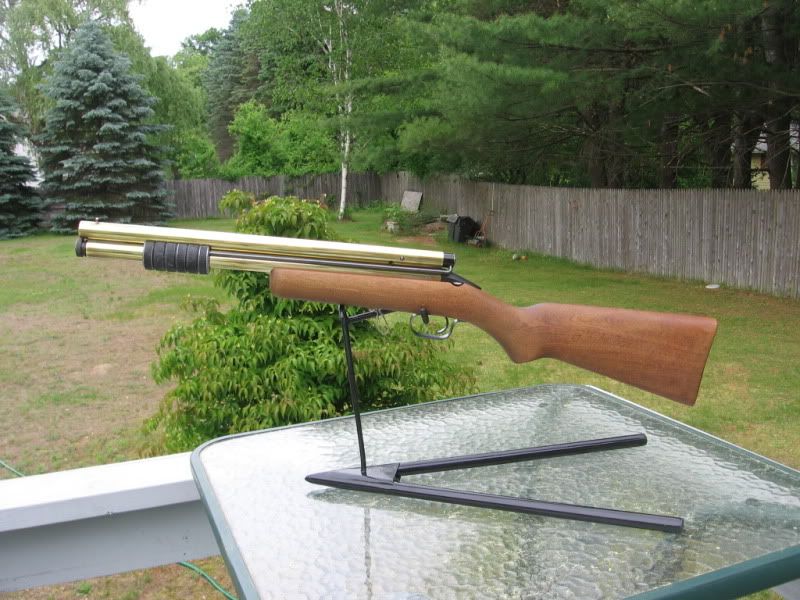 Taso Spartan
With camo anodizing and matching tank
SECTION FOUR
AIR SYSTEMS


13 ci Tank
http://ninjapaintbal..._productID_E_69
#
https://www.guerrill...tails.php?id=44
A HPA tank, Small, lightweight and you will get about 150-200 shots off one fill.
By
andres513
at 2009-02-21
22 ci Tank

Bottom Tank is 22ci
By
andres513
, shot with
DMC-LZ3
at 2009-02-21
A larger more expenive tank, for numbers of reasons. Its long, heavier, and you do get those extra shots, but its not worth it when you have constant air.
3.50 OZ tank
A tank mainly for Phantom owners or Cocker owners alike. It is a cheap alternative to HPA if that is not availible and if you want you can even attatch this to your CO2 12 gram addapter as you can with the 13 and 22 ci tanks, but this feels lighter and more common.
By
andres513
at 2009-02-21
12 grams

The essential to Phantoms! No Tanks for you! Just small little 12 grams!
Bucket Changer

A nice little upgrade that makes co2 changing with the cartiges a breeze, 2-3 turns and its in or out.



SECTION FOUR
LOADING SYSTEMS

Winchester Hopper
A 48 round hopper that is the most commonly used. Winchesters have now been discontinued so get em while you can. The most common mod for this hopper is the Dye lock lid mod found here...
http://www.mcarterbr...id-mod-diy.html
Allen Products 150 round hopper
READER SUBMITTED PRODUCT
By
Andres513
http://www.allenpain...ilframeset.html
SportShot Hopper
Another hopper! But to reach the pottential it deserves it requiers maybe 1 - 2 hours of modification with sandpaper to remove a lip that was put in there, I reccomend grabbing these up if you find them for they are valuable atm and amazing 100 round hoppers that have been discontinued.
By
andres513
at 2009-02-21
10 round tubes and speed caps.

The other essential to Phantoms! No hopper just these tubes! Basically, you have a little "scope" looking tube on the top of the Phantom, stuff the tube in there and done. Also, for added performance, add the speed caps! These make reloading easy because you don't leave the caps on the ground AKA losing them.
SECTION FIVE
BARRELS


CP 14in .685
Mikes favorite barrel(Mike likes the .693 more but still)! Very consistent accurate and cheap $30 for this barrel is a steal... and its from Custom Products. Especially on pumps but with anyother gun you should underbore.
http://store.customp...mp;categoryID=9
By
andres513
at 2009-02-21
Custom Barrels-


Frantom Barrels (stock barrel sent bored for freak incerts)-
http://www.odells-pa...i-phantom-barre
By
andres513
, shot with
DSC-P52
at 2009-02-25
The Python compression system is one of a kind system turning any barrel into a high performance barrel kit. Simply screw the precision engineered connector into your marker, insert the correct sized sleeve, and screw the barrel of your choice into the connector for a paintball compression zone to put your balls on target.
The python compression system is made in the USA from high quality aircraft grade aluminum. Each sleeve is anodized a different color and are engraved with their bore size.
Runs from $60-$70
SECTION SIX
Pump Kits
Under cocking kits
Reduced: 91% of original size [ 700 x 537 ] - Click to view full image
Where oh where to begin. There is an amazing guide on this on another forum( PBN ) but I do not belive I'm aloud to post that here. Shame shame. I'll save this one for another day. Maybe another thread.
Edited by Newman513, 26 September 2009 - 05:05 PM.