Well it all began with a little fuckhole named crzy4paint. He was a pain in the ass with constant petty infractions, then when he finally got IP banned turned out he had already had a gun sent to him in a trade. I added him to Facebook, had his email, address, other info and offered to remove the IP ban if he worked things out, to this point it didn't yet look like a scam, but given he was IP banned and could see it as him having "nothing to lose" I removed it for him to get things settled and he did.
From there I made it so that Mods have to dig deeper prior to anyone being perma-banned to avoid shit like this again. He soon went back to his old shens and before IP banning him again I looked through his posts to be sure he didn't have a deal in progress. However I must have missed something because it turned out that shishkabob had shipped him his Victory with the promise of getting G6R in the deal. Well, shishkabob PM'd me telling me about it and the second I read the name it was an instant "Fuck this kid...." thought that ran through my head, that little shit crzy4paint. He told me he wasn't responding to emails or PM's on PbN, he also removed me as a friend on Facebook and upped his security settings. I sent him an email and told him unless he responds by the next day shit will hit the fan.
So, the hunt was on I gave his info to shishkabob to add him to Facebook, no luck. So I used his address and last name to find a phone number, I ended up finding his mom's name and a phone number, however the phone number just lead to a fax line =(. I then began calling local fields in his are, fields who I have to give my thanks to for staying on the phone with me, most for over 20mins to try and help out and spread the word. Those fields being....
Hi-Tec Paintball in Bradenton
West Coast Paintball
Kohn Sports, Diane Anderson was a pleasure to talk to.
Orbital Paintball, the owner there was awesome, actually talked to him for about an hour, that guy really has a passion for this sport I see why Mike and Willie play there.
Also a thanks to HarbingerTG whose on staff at MCB and did some digging on that end as well.
So anyway after burning up a bunch of leads I searched his mom on Facebook and found a woman with the same name but hyphonated, so I figured "Well it's a long shot, but perhaps she kept her name and was recently married". Sent her all the details and said if it was infact her son let her know it is a felony to have possession of stolen goods which have crossed state lines. Nothing back from her, likely not the right person.
At this point I was frustrated, normally one of the first 2 steps works, when it comes down to me calling shops and fields I'm getting irritated. So I posted up in the staff forum for any help. Posted up all of my progress and failures and Slinky posted up saying "That's only about 40 minutes from me". Slinky you see is chilling with Mike and Willie in Florida as many of you have seen him on the radio shows. He was just waiting for a confirmed address on the guy since the phone number listing's address was different than the shipping address, possibly a place of work, a friend's etc. that could lead to wasted time. I ended up later telling him it's the best I have, the most recent address and we'll have to hope it works.
So yeah, Slinky made a trip out and nobody was home, he then made a SECOND trip and VOILA, does this look familiar shishkabob?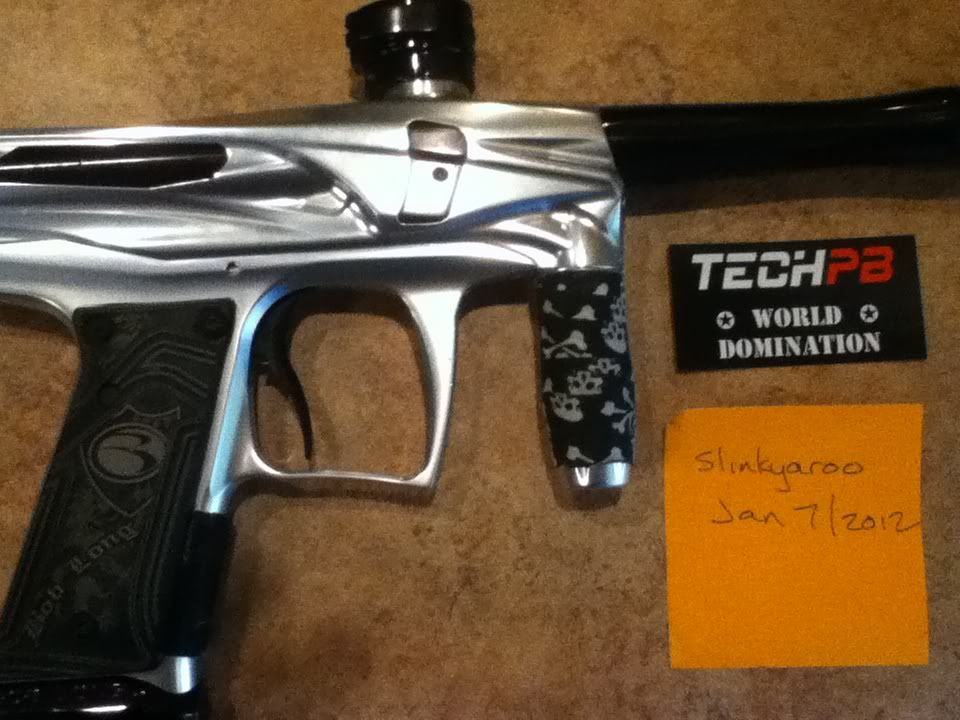 When all else fails and some little fuck wants to scam someone here just know TechPB'ers are fuckin world wide, I don't care if you're in the middle of Numibia we'll have someone knocking on your door kindly asking you to hand over the shit you stole.
Shishkabob, kindly send me your shipping address, all you have to do is pay return shipping and you sir have your Victory back. After all this I think you should be shooting bitches beside me at LL =)

When you got scammed the Staffer's were like.




and Slinky was all like




I just picture the kid pulling one of these when Slinky arrived.




and the rest of TechPB partied hard!