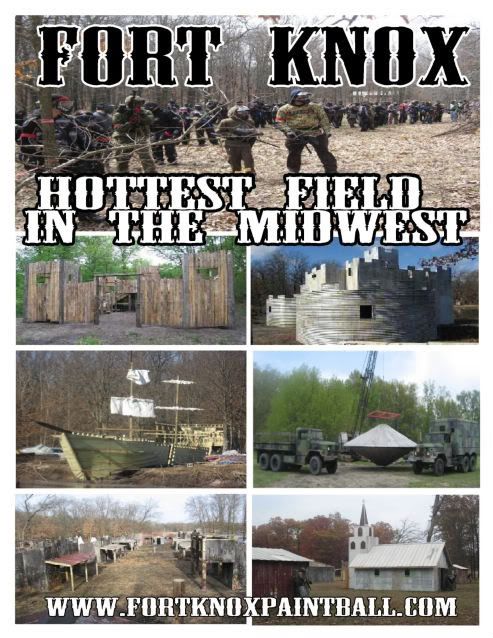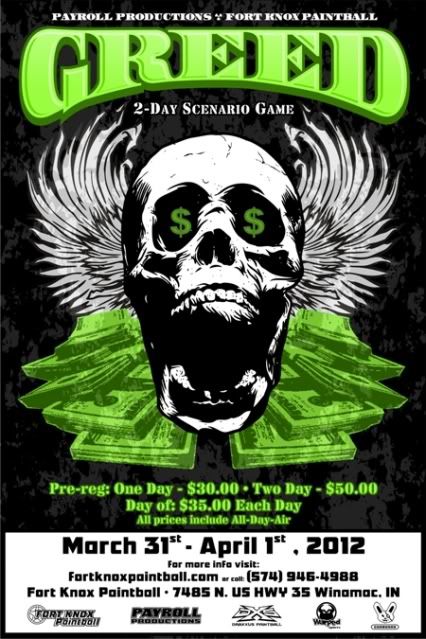 (pay online with credit card or paypal or call 574-946-4988)

1 day Pass $30 Field Fee (includes all day air)

2 day Pass $50 Field Fee (includes all day air)


Note: Pre-Registration ends at 10:00 PM on 3/23/2012



Don't want to Pre-Register...Registration at Fort Knox day of the event:

$35 Field Fee for each day (includes all day air)
greed/grēd/
Noun: Intense and selfish desire for something, esp. wealth, power, or food.
Money is everything, or is it? Join forces in this epic battle for wealth and fame. All missions, scoring flags, and props help earn your side $ that is kept electronically by the off field banker. Be careful how you approach the banker, the price on his items may fluctuate throughout the game depending on his mood. The banker also may have special tasks that he needs assistance with from your forces, it is up to you weather your wish to accept is demands or not… Remember to keep track of your finances carefully for in the end it may come back to haunt you!
Game Details
Payroll Productions & Fort Knox Presents
Greed: Money Never Sleeps
March 31st & April 1st
Timeframe
Friday 3/30
2pm Gates open for primitive camping
Download camping waiver
Day 1 (Sat.) 3/31
8am Registration Opens
11am Player Briefing
12am Game On!
3-4pm Lunch Break
4-7pm Game On!
Day 2 (Sun.) 4/1
8am Registration Opens
9:30am Player Briefing
10am Game On
12:30-1:30pm Lunch Break
1:30-3:30pm Game On
Awards and free giveaways to follow promptly after game ends up front
Everyone will get a chance to win free giveaways!
Camping
Primitive camping available. Drop off your camping waiver off at the registration building when you arrive.
Event Specific Rules
Please refer to Fort Knox House rules for general scenario & big game rules, these rules pertain to event specifics that may alter between other games you have played general scenario & big game rules
Commanders
Commanders to be announced shortly
Red=
Green=
Insertion Points
Occur every 15 minutes with a 5 minute window
Typical insertion points will be used for this game.
Area 51 near the front
Car Field
At the start of the game and after each break there will be a fifteen minute window for NEW players only to enter into the game, after this normal insertion rules apply.
The last hour of Saturday and Sunday play will be constant insertion. The only exception is if the commanders talk with their side and agree to a final battle on Sunday.
Starting insertions points will be announced soon. Insertion points will flop both days after the midday breaks.
Props
Jewels, medallions, & gold will be located throughout the field. These props may not leave the field for any reason other than cashing them into the banker during game play. You may cash them into the banker at any time game play is live.
Slapstick Scoring
Commanders discretion. A commander calls all the shots in this game. They even decide when or when not to score their flag stations. A flag station may only be scored every 30 minutes, no sooner. The commander or his XO is the only person who will be allowed to tell event staff to score flags. Failure to wait 30 minutes between counts will result in losing flag count that was made before 30 minutes. It is understood that a five minute period may occur from the time a flag count is requested and the time it takes event staff to report back flags for scoring. Not only will you need a person to call the flag check on the field you will also need a person at the banker to collect your money from the flag count as well.
Banker
The Banker will be located at a middle grounds off the field of play. He is there to bank your money. All money is handled electronically with a card that each commander will keep in their possession. This card is very valuable and can not be stolen when doing body searches. This card is what will decide the game. Everything in the Greed game is based off of $$. Flag scores, missions, props, purchasing MOS's or special items all will have a impact on your final dollar amount that declares a winner.
The Banker can not be taken hostage or killed. It is a good idea to keep the banker happy. An unhappy Banker may not be willing to do business with you or may charge you more for special items.
The Bankers location will be made known the day of the game. The Banker may have special items for sale throughout the game so check back often. You may bargain with the Banker for items that they have for sale.
MOS's/Prices
Medic = 50k
Hand Grenade = 50K
Demo/LAW Operator = 100K comes with five shots
Transport Chopper = 150K can't be shot down by a law
Sniper = 200K
Check back with the Banker often as his deals and items for sale change frequently through out the game. The above prices are subject to change if your side happens to make the Banker angry. Keep in mind that the above items will take your total dollar amount down and the deciding factor in a win or a loss is $$. Availability on some items may be limited.
We will not find out the final scores until each commanders card is placed into the electronic reader at the end of the game to decide a winner!!!
Law Rockets
Before shooting a law rocket you must notify a referee who then punches your law card. The law rocket must it or hand inside of the object you are shooting at. If it does it will eliminate the entire structure with the exception of the castle. It takes a rocket for each level to completely clear the castle. Any man made structure can be blown up with a law rocket.
Transport Choppers
Can transport up to 10 people (hand on shoulder) method anywhere onto the field of play safely. They have a ten minute time limit and can not be shot down or shot at for any reason. Opposing players may not follow the aircraft and all players can not engage until the pilot takes a knee, this action deems all players alive and can be shot or eliminated.
Search The Body
If you eliminate an enemy player, before they begin to move you can shout "search the body" the enemy player must then remain in their spot. You have a reasonable amount of time to make it to them and gather any game props or cards they may have. Medic cards, law rockets, sniper cards, props of any kind, can all be stolen. You have approximately one minute to reach a player you call for search the body, you can only call search the body on one person at a time.
NEW For 2012
Commanders will start with zero supply cards and zero money. The start of the game will now be more important than any other game ever held at Fort Knox Paintball, so be ready on time. At game start sides will rush onto the field searching for laminated cards designating cash to be taken to the banker. Once cash is added to your bank card you can then purchase whatever supplies you wish. There will also be hidden cards that can be redeemed at the banker for automatic supply cards, no money required.
Event staff reserves the right to change, omit, or add to these rules at any time with or without prior notice