A journal was found in the jungles outside the city. It was weathered and had blood splattered on it. The name on the journal was Dr. Vincent Campbell and, apparently, he was an anthropologist. He seemed fascinated with once-civilized people who have digressed to becoming savages and cannibals, and had following and observing them.
The following was one of the first entries:
When I arrived at the settlement I began hearing stories about crazed cannibals they called "The Rippers" who inhabited the city. They were said to be savage, unpredictable, and loyal only to themselves. I was told they would conduct raids and steal supplies. Worse than that, they would often take the bodies of anyone they killed in these raids. Attacks on them never were very successful due to their knowledge of the city and surrounding jungle, but those who went on these attacks often found the remains of the bodies they had taken back with them, and these bodies looked like they had been through a butcher shop. This would explain why Rippers are usually described as "blood-splattered."

To add to their mysterious and unnerving mystique is the fact that, whether they have secret tunnels, or they simply have superior knowledge of the jungle, they seem to be able to appear and disappear at will. No one is sure how they do it, but it makes them quite imposing to face in a fight.

I'm fascinated at how humans who were once members of a civilized society could devolve into a primitive tribal society. They seem to emulate the Aztec "Jaguar Warriors." The jaguar motif was used by them due to the belief that the jaguar represented Tezcatlipoca, god of the night sky, and they were some of the most elite of the Aztec Army. The "Rippers" are also seen wearing Jaguar prints, hides, colors, and even skulls.

The Rippers have also indicated that they are looking for certain items and artifacts that they want to use in rituals that they believe will give them superhuman powers or be able to bring their fallen warriors from the dead. Many of our tactical leaders feel that any alliances they can form with the Rippers, no matter how shaky, will be worth pursuing if it means they may help fight the opposition, and it means that our figheters don't have to distract themselves fighting the opposition and the Rippers at the same time.

I am going to follow these "Rippers" and study them. I feel that there are lessons to be learned that may be invaluable in reestablishing man's place on this planet.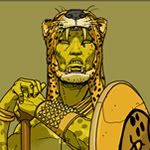 Edited by Viper Scenarios, 21 January 2012 - 05:44 PM.