Pending to Morgan
Hey boys today my Axe gets put up on the chopping block. After owning this gun an putting a significant amount of paint through it, I've decided I want to try something new. This year is going to be my grind year. I plan on trying out for a team for the 2013 season, and I don't want to worry about whether or not my gun is lubed or other internal issues. I want stacked tubes. I want a gun I can throw in my gearbag and not give a fuck about. That being said, my shit works, my shit is clean, and it has been cared for. If you send me some fucked up piece of shit, I'm sending it right back and I'm using your money to do it. Other details will be listed lower in the thread concerning certain trades, shipping, and how the deal will be conducted.
Marker: Empire Axe
Condition: 9/10, it's been used but it doesn't show it. There's one scratch on the ASA, but you can only see it if you're looking for it.
Color: Dust Black
Upgrades: Lurker Eigenbolt, Nano Feedneck, NDZ spring kit
Known Problems: None, shoots le' tittays
Asking Price: $440 + shipping, semi negotiable. Don't lowball me or waste my time.
Shipping Options: Will be discussed below
Trades of interest: See also below
Location of item: New Prague, MN 56071
What is Included: The gun, everything that came with it, upgrades, stock parts except feedneck, agg Lurker sticker, printed off manual if you want, might find some other shit to throw in the box but don't count on it.
Okay ladies listen closely. I've been fucked twice from the Post Office. They fucked me right in the ass and didn't even make me breakfast. Your item will be shipped Priority with tracking and $500 in insurance. There will be some much tape you're gonna have to torch the shit off. Insurance isn't free I think it's gonna be like $10 for insurance, you're paying for it. And no, I'm not shipping it any other way so it's cheaper. If it gets lost I'm out $500 because you wanted to save a few bucks. Trade shipping will be discussed with the other member. *I'm also NOT shipping first. I'm in PC and I have enough feedback to back it up.
Trades.... this is a biggy. I want old super guns with cash. I want Ego6's or 7's with cash. I want your Timmy's with cash. I want old DM's with cash. I'd take an Etek with cash. I'd take a Legend with cash. I don't care if your gun is PL or a SE anno, doesn't appeal to me. What I do care about is that your gun works. Once I get the package and air up the gun, if it leaks or doesn't shoot I'm sending it back on your dollar. Another thing I don't need is your barrel kit or your tank or your 07 Naughty Dogs jersey. Money speaks to me. If you are going to offer those things then it WILL be in my favor. I also will NOT add for a gun. Want to offer your Ego9? Cool it better be straight or you're wasting your time. That's really all I have for now. If your gun wasn't listed go ahead and throw up an offer an I'll tell you what I think.
I'm just going to embed one picture so I don't fuck the coding. The link is to a dedicated album for the sale.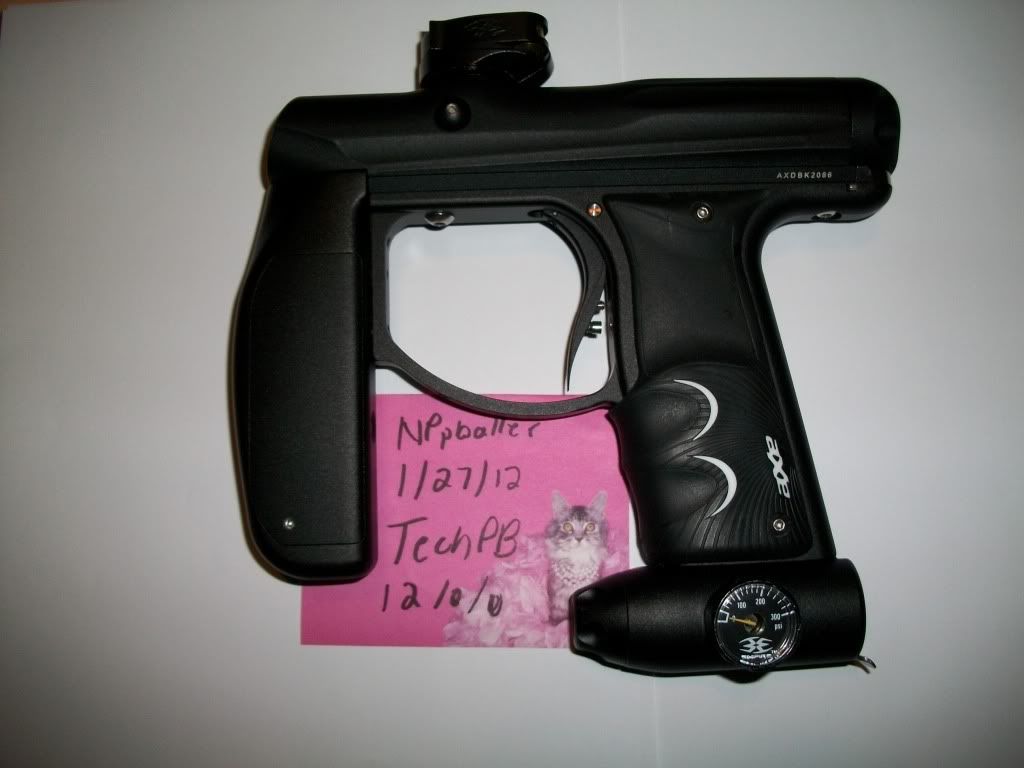 The link:
Eye bonarrrzzz
Thanks guys! If you have any question just post 'em up!
http://www.youtube.com/watch?v=pDRxiabPoWo
Edited by NPpballer, 19 February 2012 - 01:19 AM.