Want to donate to TechPB? Don't know how to use Paypal? This guide will show you how to setup paypal, how to fund your account and how to send money!
Guide by : MurphMan
*** Quoted Text : Important Steps/Info ***
Paypal Home Page ~ https://www.paypal.com/

- First, go to PayPal's home page and choose "Sign Up Now"
- Select the country where you live and choose a language preference.
- Choose a type of PayPal account.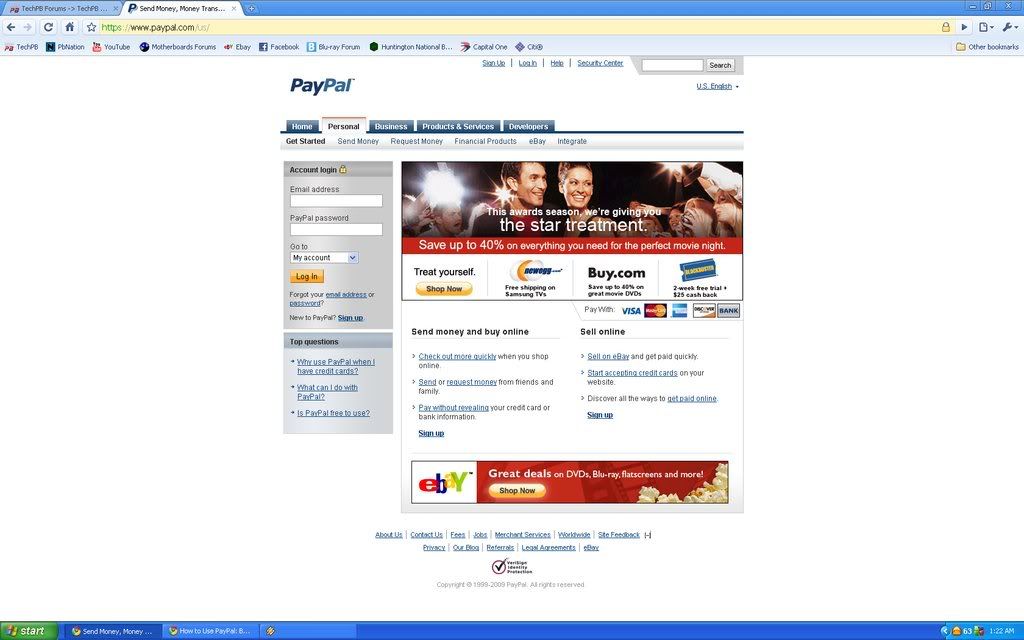 Personal accounts:
Pros: No transaction fees on payments received via PayPal Balance, PayPal Instant Transfer, or PayPal eCheck.
Cons: Can only receive a limited number of credit card payments; limited customer support (no toll-free number and long wait times); $500 per month limit on receiving money.
Ideal User: Online shoppers who do not spend large sums of money.
Premier accounts:
Pros: Toll-free customer service number; can accept unlimited credit card payments; eligible to apply for PayPal ATM/Debit Card, which allows direct access to your PayPal account instead of waiting for funds to transfer to your bank account.
Cons: Transaction fees to receive payments via PayPal.
Ideal User: Individual online sellers.
Business accounts:
Pros: Same as Premier; ability to have multiple users access same account; can operate under business name.
Cons: Same as Premier.
Ideal User: Business owners.
~ Your best option is Personal, unless you plan to buy & sell online ~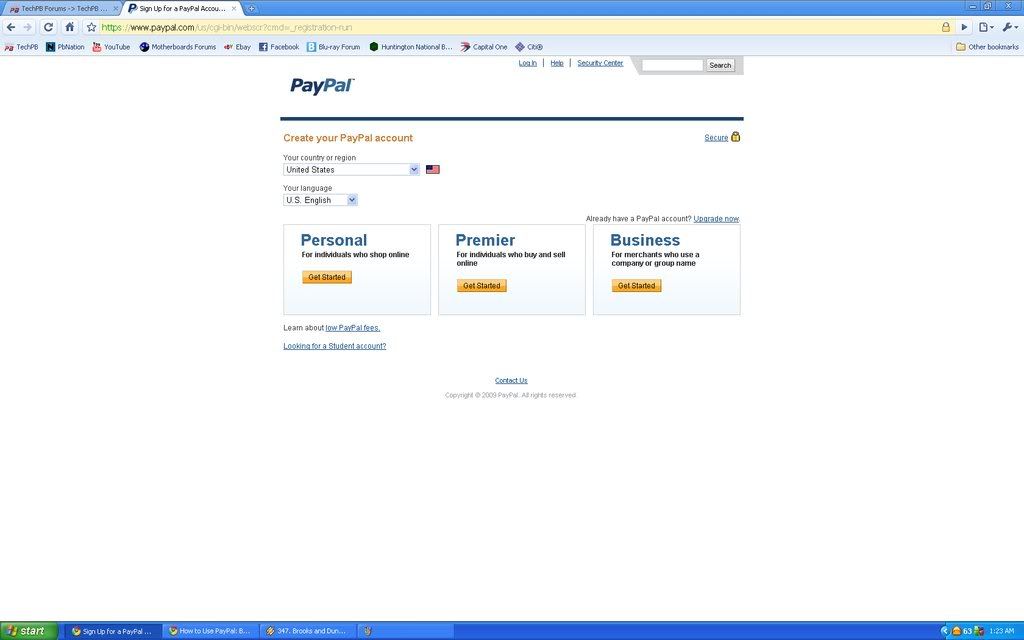 ~ If you choose option Premier or Business, here is a Paypal Fee Calculator to help you figure out how much fee's will be. Paypal Fee Calculator ~
- Enter the requested information, Agree & Create Account -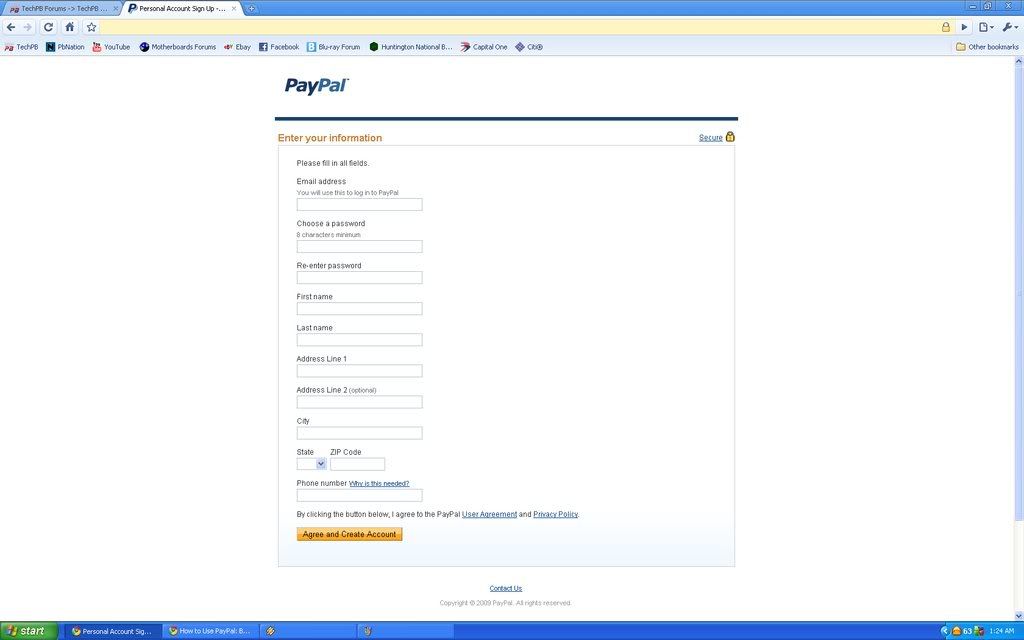 ~ Once you have entered the requested information, selected "Agree And Create Account". You'll receive a confirmation email from Paypal. Click on the link in the email. Sign into your account with the password you set up. ~
~ You should now be logged onto your Paypal Account, this is your account home page. Under "My Account" Tab, Select "Profile", this is your main account settings, but also how you fund your Paypal Account.~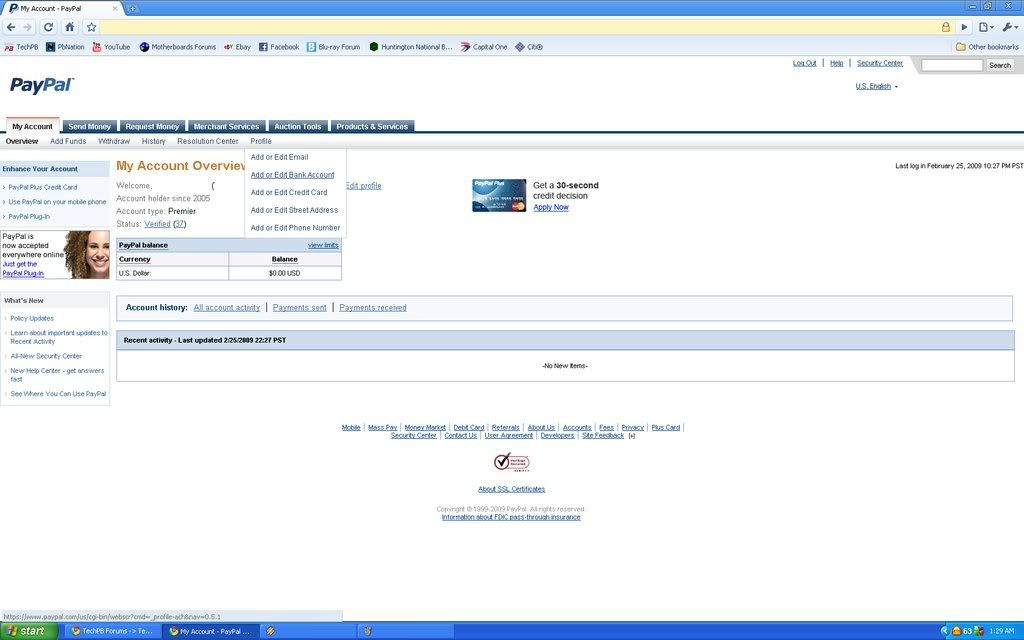 ~ You have two options to Fund your Paypal Account, Bank Account or Credit/Debit Card ~

- Let's look at Option 1 : Add a Bank Account in the United States -
- Gather your bank information, including your account and routing numbers.
- Go to PayPal and sign into your account.
- Click on the "Add Bank Account" link.
- Fill in the requested information.
- PayPal will make two small deposits to your bank account, approximately three days after you enter the information.
- Check your bank statements for the deposits.
- Return to your account page and click on the "Confirm Bank Account" link.
- Enter the amount of the deposits to confirm the account.
~ Once your Bank Account is confirmed, you will be able to add funds (My Accounts/Add Funds) from Bank Account to Paypal. Takes 3-5 days to Transfer ~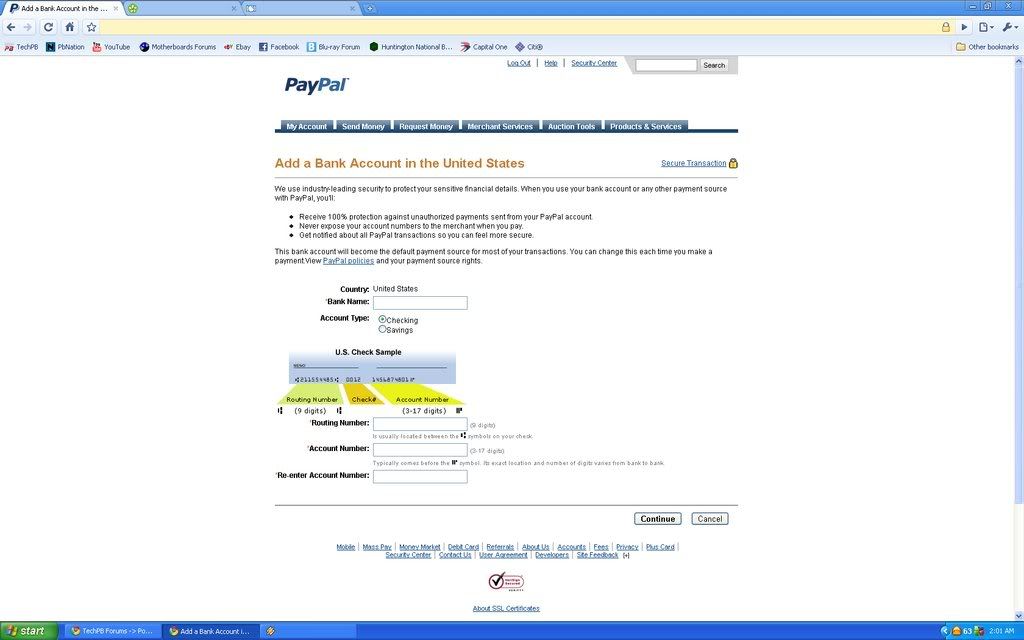 - Now let's take a look at Option 2 : Add Credit or Debit Card (If you wish to send money immediately, this is the best option) -
- Go to PayPal and sign into your account.
- Click on the "Add Credit Card" link.
- Fill in the requested information.
- Enter your "Billing Address". The address displayed on your Statements, basically "YOUR" address that which the card is under (Home Address)
- Click "Add Card" at the bottom of the page.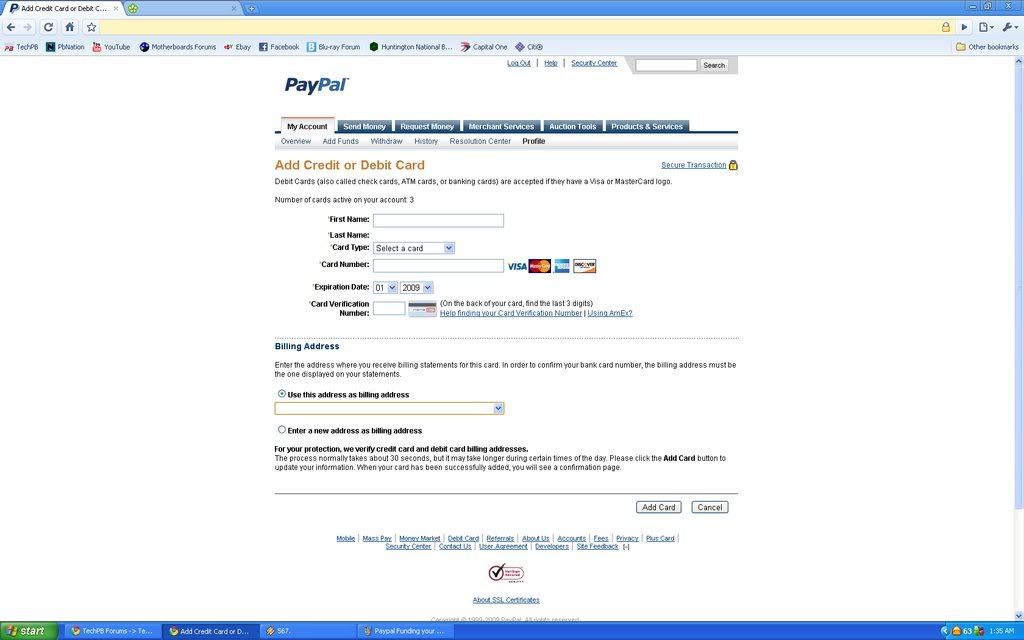 ~ After you have chosen the method for which you wish to fund your Paypal Account, you are now able to "Send Money"
~
- To send money directly to someone, login to your PayPal account and click the Send Money tab.
- Enter the email address or phone number of the recipient, the amount you want to send, and the currency you want to use.
- Mark what the money is for, and then click Continue.
- Review your payment information, and then confirm the transfer.
To become a member of the "Players Club" and get access to TechPB's new BST Section, here is what you need to do-
Step 1) Paypal $30 to techpb.donate@gmail.com

~ After hitting continue, Review your Payment & Send ~
*** IMPORTANT ***

Step 2) Include your TechPB User Name
Step 3) Include your shirt size
Step 4) Include your mailing address
*** Make sure you choose the correct Payment Method ***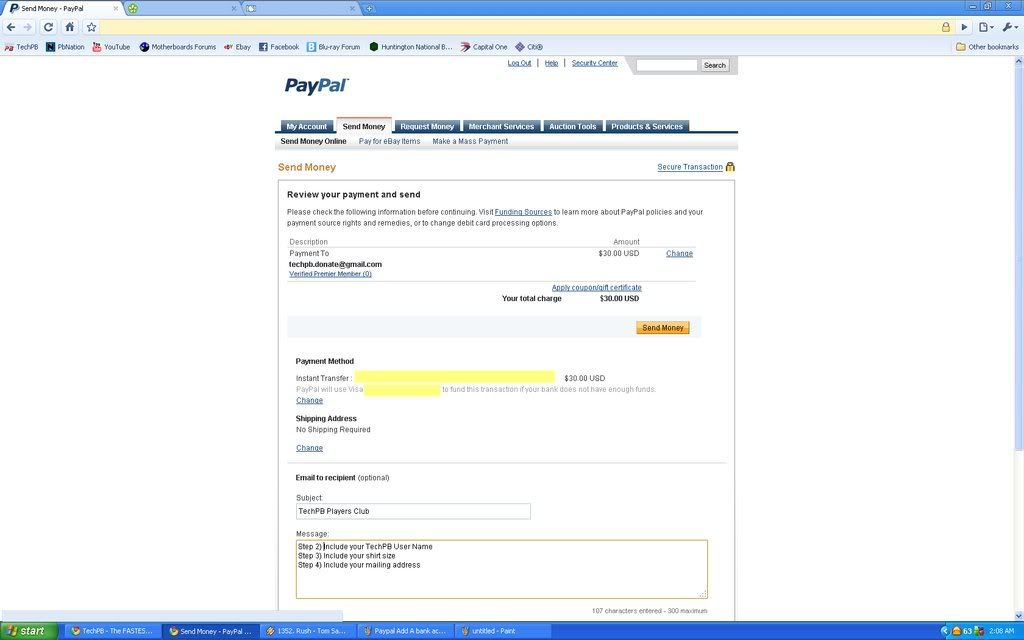 Completion Time : 2 Hours


If anyone has any questions please feel free to ask!
Sincerely,
MurphMan
Edited by MurphMan, 01 November 2009 - 03:52 AM.