So the rule are very simple,
If you are very tall for your age you get in and get to be part of Quinton and My late night idea session V1
Don't be doing teh flaming and stuff cause no one likes dat OKAY
Notice teh kids in the title, you have to be under 20 or a child at heart...... I'm talking to you Blckassn
RESIDENT STEPPING TURD: THE BACON MAN 5' 4
Cause I love him <3: one of our many canadian BAMF's Slinkyaroo: 5' 9
I met this guy on the internets: Andrew the wookie,,,, how tall is chewie again?
Presidante: Looney 6'1
Vice presidante mr. super sexay hair man: Like a cheese stick 6' 1
Council:
Kid is tall yo: tallsmallboy44 6' 2
so ummm yeah... kid needs to stop eating his veggies: Kook 6' 4
Shadow zero the hero BOYZ: 6' 1
Moregano 5'2 6' 3
Members:
Steephil: in his neighborhood they call him il gigante 5' 10
G4 paintballer, a pumper I see: 5' 11
Spisla, my main man kyle: 6' flat
Klub, he'll hit you over the head with a club cuz he's so tall: 6' 2
i wanna Waffle: he's da bouncer yo he don't take shit from kids like Morgan 6' -----
Tick- he's some kind of bug that crawls under your skin and eats your brain... I think :B 6' 2
LV Back Attack packer "hide yo kids hide yo wife" he's coming to get you at 6' 5
<br class="Apple-interchange-newline">
Drummie224: has probz on teh airball fields ffrom hiz tallness yo 6 '1
Larry jerry He can haz join: 6' 1
Irish725: Dis manz can reach the cookie jar on the top shelf, whilst lying down on da floor, he tells me the cookies taste nice 6' 5
Rhino1909: man plows through shit like a rhino, kid also hates school yo 6' 4
The club's current Mr. Big is... LV backpacker and Irish725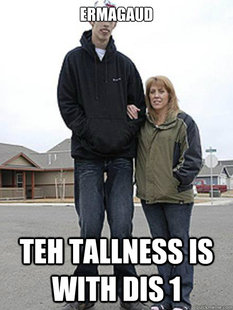 Edited by Lunatic_on_high, 27 August 2012 - 04:44 PM.