This is a thread to help all you aspiring tourney players, have a better understanding of the tourney aspect of paintball.
Now before i talk about tourneys you need to know a few things.
-
the rules of paintball.
-you need to know this because at a tourney you are required to practice all safety rules.
-
Paintball terms
- this way you know what the other guys are talking about.
When you are ready to play in a tourney?
The answer to this is when ever you think that you are ready. Go out there and give it your best shot, if you don't win or even place just think off all the experience that you gained by just playing in the tournament. Just remember paintball is about fun, so as long as you are having fun then you did a great job.
Why play a tournament.
- For fun
- So you can play with the best teams around you
- For the competitive thrill
-And because it is very fun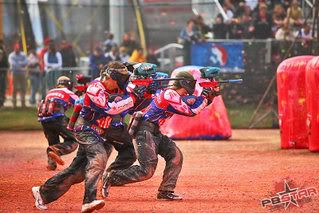 Things you need to play in a tourney.
- A marker that has the mode that the tourney requires. so say if a tourney is semi only make sure your marker has semi auto.
- All of the other necessary things you need to play with, air tank, hopper etc.
- Money, yes money because tournaments are not cheap.
What you need to do before you play a tourney

.
- Get your self a team, unless its a one on one tourney you are going to need fellow balers on your side.
- Find out the rules for the specific tourney you are going to play in and learn them.
- Practice with your team.
- Practice with your team.
The Night Before the tourney
- Clean all your gear
- Lube your marker
- Replace all battery's with new name brand battery's.
- Do not add anything aftermarket parts to your gun, because you don't want to risk adding something to your marker before a tourney in case the part makes your gun act funny.
- Drink plenty of water
- Make a list of all the gear you need to play with. then get all your gear together in one place ( preferably a bag) checking each item off the list as you get it.
- Get a good night sleep.
The morning of
- eat a good breakfast, some thing that will hold you over. But nothing full of grease or fat.
- Drink some more water
- go over your gear list one last time, making sure you have everything you need
- get to the field as early as you can, its better to wait a few hours to start playing then it is rushing to get set up before you play.
Once you get to the field
- find the bathroom, this will help so much later on when time is important and you need to relive your self.
- Get your spot set up, with your gear ready to go
- Chronograph your marker, and make sure it its under the legal limit for the field.
- Make sure your paper work is filled out, so you are ready to go when the tourney begins
- Go over the game plane with your team
- If you can walk the field, find out key bunkers and how you will be able to get to them
- relax and prepare your self for a fun day of paintball
Tournament rate of fire rules.
- psp ramp is after 4 trigger pulls a sec the gun will ramp up to 13.3 bps.
- psp 3 shot is after 4 trigger pulls a sec the gun will then fire 3 balls per trigger pull up to 13.3bps
- Millennium is after 6 trigger puls per sec the gun will ramp to 12 bps.
- nppl is one trigger pull one ball fired uncapped rate of fire.
Tournament Checklist:
Field gear:
- Gear Bag (duh)
- Hard Goods (guns, loaders, tanks, barrels, etc)
- Soft Goods (jersey, pants, sliders, t-shirt, SHOES, pads, headgear, MASK, etc)
- Parts and Tools (o-rings, lube, wrenches, spare parts)
- I.D. Card (unless using a temp)
- Barrel condom(s)
- Towels and microfiber cloths
- Squeegees and barrel swabs
- Q-tips
- Extra socks
- Water
- Snacks
- Cash (for temp cards, food, water, goodies)
- Camera (if desired)
- Extra Lenses (if possible)
- Clean shoes for after play
- Extra clothes for after play, if desired
- Umbrella (better to have and not need than to need and not have)

Hotel/Non-field gear:
- AT LEAST One change of clothes per day, plus two or three extra pairs of socks.
- Soap, Shampoo, toiletries (because hotel shampoo sucks)
- Cash
- Hotel and rental car reservations IN ADVANCE
- Music (iPod, cds, etc)
- Magazines
- Video Games/Console (if desired)(also plays dvds in the hotel, if the TV isn't a douchebag)
If I forgot anything, post it up.
special thanks to Ghostship702 for the check list
Edited by rebel492991, 18 November 2008 - 10:41 AM.