Tippmann 98 Custom (not pictured)
Put a Lapco Bigshot, stock all that fun stuff then realized it wasn't what I wanted so I traded this +cash for a used...

07 Ego


AWESOME shooter! Previous owner had this thing shooting butter smooth. Anytime I let another player use this thing they offered to buy it. Some days I regret getting rid of it, but stacked tube poppits definitely just aren't my thing. I traded my 07 Ego + cash for a BRAND NEW...

Vicious Geo2


Geo2s are hands down my favorite platform to date, wicked easy maintenance, never go down and when they do its often a simple fix. I had that trigger setup PERFECT, could rip 15 semi with ease on that thing. This is one of the prettiest guns I've owned, that color scheme looks freaking SICK on a Geo2. But I play mostly in the woods and the long games I was finding myself needing to leave the field to get air and that just wasn't working for me so I traded this straight for...

Vicious Ego11


Good shooter, its an Ego, what is there to say? I didn't have this guy long though, needed some cash so I traded this for...

Strange SFT, Nasty SFT, E-bladed Orry, Ninja Steelie and $500



Didn't own the Orry very long, was really cool to play around with, very happy I gave it a try just wasn't my style so I sold it off to pay for a camping trip with some friends.
I LOOOOOVE Shockers, sadly the maintenance/repair of them was a bit over my head. Shot freaking amazing while they worked, but once they went down I just couldn't get them shooting properly, I will DEFINITELY be owning another Shocker some day. But after 3 weekends of no playing because I spent all my time and money trying to get these working I said "Screw it!" and bought a used... (I sold the shockers about 5 months later)

Poison Geo2


What can I say? After a stressful experience I had to go back to a platform I loved. Had a really hard time getting into this color scheme though, poison just isn't for me. Then one day while poking around Kijiji I found a KILLER deal on a...

Rev-I


COULD NOT pass this up, $200 for a MINT Rev-I with the old gauge back cap. This is one gun that I can say I genuinely enjoyed playing with. Every time I loaned this guy out the person came back to me amazed how good it shot. I did have a few gripes with it however. I found that once I got paint on my hands the grip panels and reg got CRAZY slippery and made switching hands quickly a bit tough. Also didn't love the trigger adjustment, the switchblade was a cool idea but I just couldn't get it setup how I like my triggers. IMO If Dangerous Power had of dropped the barrel kit, leather case, OLED and fancy trigger and put this gun at the mid range price point it would STILL be a top seller for that market. REALLY fun gun to own, if you ever get a chance to try or own one GO FOR IT! But I decided to give the last gun on my bucket list a try, so I traded my Poison Geo2 and Rev-I for a used...

V2 Victory


This is my current gat, so far I really like it. But its winter so it hasn't seen much playing time. It's a bit picky with reballs but with some minor adjustments in dwell and/or abs it will work fine with them. Took it out in -27C weather and put a little less than 2 bags through it on 2k PSI in my tank. Really looking forward to taking it out this summer.

Shocktech SFT


I couldn't continue going through life without owning a Shocker, picked this beauty up to use as a back-up for now

Dye DM11


Sold my V2 Victory and used some of that money to pick up a DM11, I've always kind of been hot and cold in my opinions of DMs, but I've only held and shot 1, so I finally gave in an decided to own one. First impressions are quite good, LOVE how it feels in the hands and shoots. I'm looking forward to rocking this guy and putting it to the test.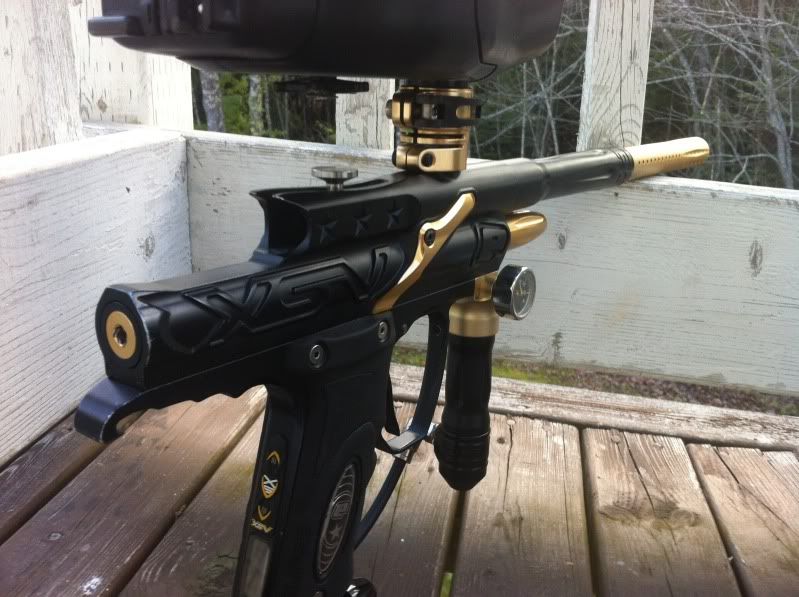 Picked up this beauty for reball this winter, loved everything about this gun, but unfortunately had to sell after only using about 3 times to help pay some bills
Edited by NBTIppy, 07 November 2013 - 11:23 AM.