I recently picked up this SOE Chest Rig in March and have since had the chance to field a couple of times to get the feel for it. Keep in mind this rig was built for real steel applications.
The basic specs. of the Rig include 4 integrated double mag puches with velcro and snap closure, H Harness w/Pals, integrated "accessory" pouch w/ zipper closure and internal elastic loops. Each mag pouch has 2 rows of Pals on the front. To each side of the integrated mag pouches include 3 rows of Pals.
First impressions:
The MilSig Mags I use were difficult to get in the pouches. However, after leaving them in the pouches for a week I found it was easier to insert them. You wont be getting these mags back in the pouch in short order so a dump pouch is recommended. While this may be a con for some, I believe that it will reduce the possibility of the mags falling out in the event the flap isn't secured properly.
The Pals on the side of the pouches provided plenty of space to add a FazMag with room to spare. Also with the Pals on the H harness you are able to add a radio pouch, single pistol mag pouch or even a Molle compatable hydration carrier on the rear of the harness.
All the straps on the H harness are adjustable and there is plenty of room for adjustment. It also includes guide loops for your hydration tubing.
The integrated zipper pocket behind the mag pouches is excellent for store your ID, keys or even spare TPX pistol mags in the included elastic loops.
Final thoughts:
The mag pouches are very snug and I wouldn't recommend the use of round collared mags in this rig. You will probably end up with paint in the bottom of the pouch! I plan on testing Scarab and Dye DAM mags once I can get my hands on some. However SOE does offer the rig in a PALS only version that you could add the pouches of your choosing to. Over all I am very happy I picked up this rig.
A few things to keep in mind when ordering SOE products. They produce items in limited runs/colors/patterns and it can take a while for your order to be ready. I believe the lead time for mine was about 3 weeks. In some cases it can be longer and they wont make you pay for your order until it is ready to ship to you.
I have had a few people say that this rig was pretty expensive. While the there is some sticker shock at first glance, if you do your research you will find that a similar rig would end up costing you about the same price. As an example MilSigs RRV vest (just the base vest) runs $170. Sure you can pick up a rig for $40 at an airsoft retailer but the longevity of that rig, in my opinion, wont last as long as the higher end products available. I have no doubt that I will never need another SOE rig due to wear and tear. Even if I did manage to break it they have a LIFETIME guarantee!
A few pics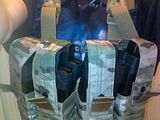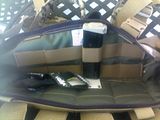 Kevin