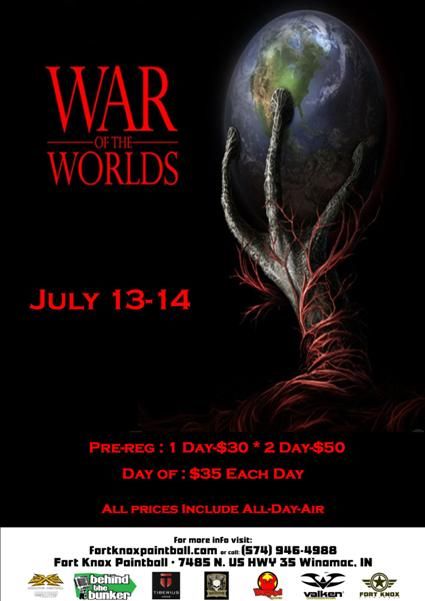 1 Day Big Game Pass $30
2 Day Big Game Pass $50
Pre-Register at www.fortknoxpaintball.com
(Pre-registration ends July 5th at 10pm)
Don't want to Pre-Register? Register at Fort Knox on Big Game day.
$35 per day.
We believe, long ago the ancient civilizations had some of the first encounters with beings like no others before. These beings resembled humans in many ways, but with slightly different features and greater technological advancements . We know these beings as Aliens or Extraterrestrials. From time to time some people still encounter these beings. However, the human race does not have any proof of their existence, till now.
In July of 2013 the world as the human race knows it, could change. The beings from the planet Pagani have come to take Earth from the human race, and enslave all of mankind. However, the Pagani Race will not foresee the humans putting up a fight to save what is theirs. The humans will come together as one to fight off the invasion and so, the battle for Earth will start. Only one race will have all of Earth's land, water and, of course, precious natural resources. Which race will thrive and which will fall?
Which race are you? Choose to take earth and enslave all of mankind as the Pagani Race, or become Human, to protect earth and save the land for generations to come. The future of Earth is in your hands and the War of Worlds.
Timeframe
Friday 7/12/13
2pm Gates open for primitive camping
Download camping waiver
Day 1 (Sat.) 7/13/13
8am Registration Opens
11am Player Briefing
12am Game On!
3-4pm Lunch Break
4-7pm Game On!
Day 2 (Sun.) 7/14/13
8am Registration Opens
9:30am Player Briefing
10am Game on
12:30-1:30pm Lunch Break
1:30-3:30pm Game on
Awards and free giveaways to follow promptly after game ends up front. Giveaways include (3) 2013 Big game Passes.