Background is that there is a man who killed a woman down in San Diego on 8/5/13 and an Amber Alert, California's warning system for missing children, goes off and sends a text to my mom's phone. All of a sudden people start posting Facebook statuses about this expressing how bad they feel until I get to this bitch's post:

This girl thinks she is tough shit because she is 'thick' and 'popular' and we all know she is because she exploits her boobs which don't even look nice. Normally people like this do not phase be but the fact that she wants to become a first responder and/or save lives by taking care of others makes me want to jump off the Golden Gate Bridge.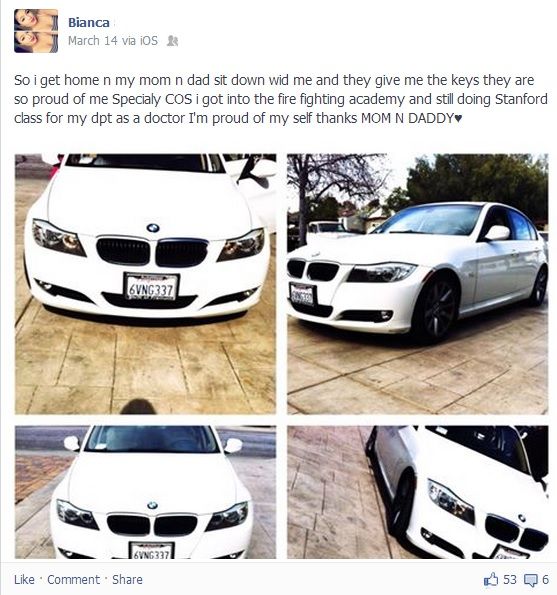 How the fuck do you expect to help others if you don't care about shit that is happening in the present? How the hell are people like this allowed to live who have the mentality of "I am not there yet and it doesn't matter to me so #YOLO'. I am not good at confronting people and giving them shit about their beliefs but for this one I will make an exception. I myself want to become a first responder and there is no way in hell I would trust this thing we call a human being to be right behind me giving me support running into a burning building. It is 12:00 a.m. and normally things push my buttons easily like that kid in chat who I will not name who said he played in tourneys and is sponsored by Bass Pro Shops who has team jerseys designed by Raza but drools (frooling* for Wookman) over the idea of owning a damn extcy and not having enough money to buy it. This Facebook instance wanted me to find a way to bring back unicorns then blast them all into space because of her stupidity and how callous she is towards others.
/endrant
TL;DR
Edited by kingJurzy, 06 August 2013 - 02:05 AM.