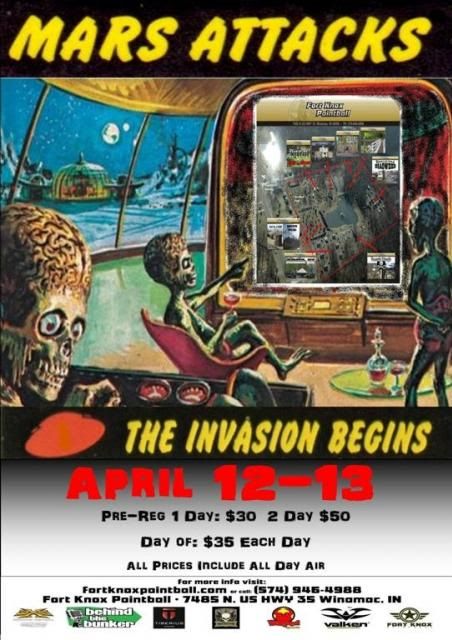 GET READY AND PREPARE! THE INVASION BEGINS April 12-13

Mars Attacks BIG GAME, put on by Junky, of The Unforgiven, and Must Play Scenario Paintball!

Leading the Earthlings on Defense, will be the "Legendary........... Paco, Bobby Schnebel!!!!

Leading the Martian attack on the Earth, will be the "Great HueyDawg, Kent Marsh!!!

Visit www.fortknoxpaintball.com to pre-register

2 Day Pass   

$50 (includes all day air)



1 Day Pass

$30 (includes all day air)


(Pre-Registration closes April 4 at 10 pm)

Dont Want to Pre-Register above?  Just show up on Big Game day and register.   

$35 per day (includes all day air)


 Timeframe


Friday 4/11/14

2pm Gates open for primitive camping

Download camping waiver

 

Day 1 (Sat.) 4/12/14

8am Registration Opens

11am Player Briefing

12am Game On!

3-4pm Lunch Break

4-7pm Game On!

 

Day 2 (Sun.) 4/13/14

8am Registration Opens

9:30am Player Briefing

10am Game on

12:30-1:30pm Lunch Break

1:30-3:30pm Game on

Awards and free giveaways to follow promptly after game ends up front.  Giveaways include (3) 2014 Big game Passes.