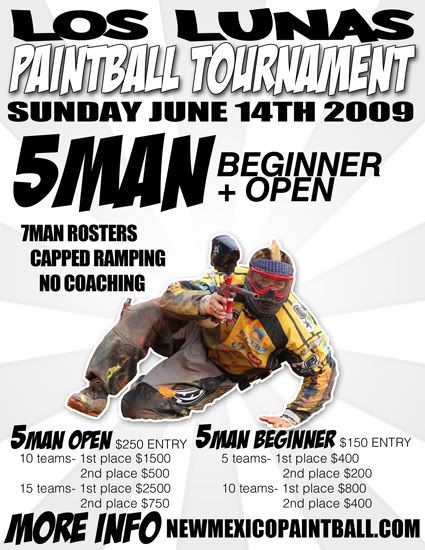 WHERE:
Los Lunas Paintball Park
ENTRY:

Open- $250 per team
Beginner- $150 per team (Can use electros)
Maximum 7 players per roster
Rookie division capped at 10 teams
Beginner Division:
You may have 1 player with tournament experience as long as they have not played a national event (psp/nppl/xpsl) within the past year. The remaining players can not have played in any tournament in a division higher than rookie/beginner.
FORMAT:
5 Minute games
Flag hang opponents side
No coaching
PAINT:
low $45 a case
high $50 a case
PRIZES:
Based on team minimums
Open-
10 teams
1st place- $1500!!!
2nd place- $500
15 teams
1st place- $2500!!!
2nd place- $750
Beginner-
5 teams
1st place- $400!!!
2nd place- $200
10 teams
1st place- $800!!!
2nd place- $400
GUN MODES:
Capped ramping to 15 balls per second. Make sure you're gun's are set before the tournament as the refs will not provide assistance!
REGISTRATION:
Deadline is Thursday June 11th, any team wanting to sign up on Friday will have to pay an extra $50 fee.
How to register? Tad's email:
taddavis@comcast.net
or his number 505-280-8204 -- If i don't answer, leave a message with your team name and number and i'll get back to you.
Have ready, team name, which division, player's names
TOURNAMENT SCHEDULE:

Captains meetings - 7:30 am
Games start - 8:00 am
ADDRESS AND DIRECTIONS:

1603 HWY 314
Los Lunas, NM 87031
-Take Left ramp onto I-25 S toward BELEN - go 29.1 mi
-Take exit #203/LOS LUNAS - go 0.2 mi
-Turn Left on MAIN ST NW(NM-6) - go 1.7 mi
-Turn Right on HIGHWAY 314 SW(NM-314) - go 1.3 mi
-Turn Right on Morris Rd (Behind BMX park)
-Arrive at 1603 HIGHWAY 314 SW, LOS LUNAS, on the Right
Edited by SamS, 04 June 2009 - 12:06 AM.