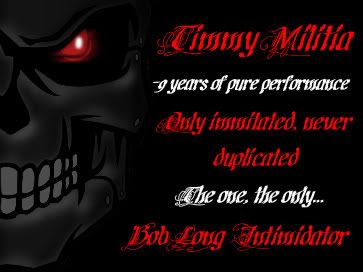 RULES:

1. To join you must post at least 3 pictures of your intimidator or 1 picture with your username in it.

2. You will be added to the list once accepted.

3. Stay active or you will be removed.

4. Discuss anything to do with intimidators, such as problems, modifications, things you've done to your gun, personal opinions of timmies, etc..

5. Post at your own risk.

6. Double posters will be flamed.

7. Absolutly no B/S/T.

8. Trolling will not be tolerated.

9. Off topic talk will be accepted, but don't go overboard.

10. Try to keep the "vs" posts to a minimum.

11. Be respectful.





PRESIDENT:

K_garretson23 (Kevin)- 08 protege

Council:
Iram- 2k5 AIM intimidator
Tucan9999(Ryan)- 08 vice
Vice_Roy- 08 vice

MEMBERS:
Moon-2k5 alias
Kevin-2k5 abomb
Pop em baby- 2k6 infamous
Ajak-2k5 alias
The members list was removed for now due to the abundance of inactive members. To rejoin just follow the original joining rules.
If you would like your first name/ setup next to your user name just state so.
Edit:
First iteration of this club
here
.
Edited by k_garretson23, 06 August 2009 - 11:50 AM.