Splatter Paintball Feedback Love thread!!
Posted 28 September 2008 - 05:35 PM
If you love splatter show your appreciation!!

Is my sig gnar enuff?


---
Posted 29 September 2008 - 12:49 AM
Splatter is the shiznit!

Stupidity should be painful

CHILD PLEASE!

---
Posted 02 October 2008 - 07:09 PM
splatter is number #1 love them and there vary helpful

Jolly Green
splatterpb
podiumpaintball
fat front player/agg/elite gun owner
Members Of The Owl Council

TWEETY
---
Posted 29 December 2008 - 02:03 PM
go splatter love all of them
They help me with al my gun problems!
---
Posted 26 April 2009 - 10:26 PM
awesome store... awesome owners/workers... great prices
need I say more?

---
Posted 31 October 2009 - 04:13 PM
John is awesome! Keep doing what you do!

Yes I eat paintballs.... What?

Got to love life
---
Posted 11 March 2010 - 09:56 PM
I beliv that splatter just oved their location, and has a new name!

Yes I eat paintballs.... What?

Got to love life
---
Posted 24 March 2010 - 03:31 AM
I beliv that splatter just moved their location, and has a new name!

They have indeed. Found this info elsewhere on the internet. I just copied and pasted the info from where I found it.
As of February 1st, 2010 Splatter Paintball Supply LLC has changed there operating name to Avid Extreme Sports.

We believe that this region deserves a superstore. With 100% Customer Service, diverse inventory, certified marker technicians, and over 12 years of experience we are sure you will not be disappointed.

All major brands under one roof!

Eclipse
DYE
Empire
Invert
Valken
CP
NXe
VForce
DXS
RPS
Virtue
Pure Energy
Ninja
Exalt

Avid Extreme Sports is sure to have what you need. We are the largest Paintball supply store in this region. Compare and see the difference.

Avid Extreme Sports
2604 N. Moore Ave
Moore, Ok 73160
405-912-0961

Monday-Friday: 12pm-7pm
Saturday: 10am-7pm
Sunday: 1pm-5pm


Their Tinker AFB field info

Field Fee=$15.00
All Day Air Fee/Rental Fee=$10.00

Field Paint Only- RPS Premium Gold- Call For Pricing..

Party's during week.
Sat-9am-6pm
Sun-10am-6pm

Airball will be available as well a MilSim Field

---
Posted 12 April 2010 - 06:59 PM
To be honest, I wasnt too impressed with the old Splatter paintball. Good service when I had gone, but kinda shabby. Since they have moved a few doors down and become Avid, they won me over completely. Its a little farther drive than Shaggy, but man, the place is clean, well laid out, excellent service, and the guys are knowledgeable. Even though I didnt buy my gun there((bought a lasered mini from kohn with the trooper design)) I did buy an empire prophecy after going in and checking out the g3 and mini. John was great at helping me pick, and not even offended when I told him I wasn't buying the gun from him. I am more than happy on a few things to spend slightly more than buying something off of Ebay for the service they give.

And the grand opening on April 10th was awesome. Free Chik-fil-A, and some pretty good deals on stuff((got an empire event and got a free ear piece))

I give Avid a 10 out of 10 in my book.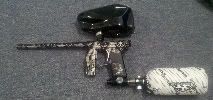 ---
Posted 08 May 2011 - 04:37 PM
I am sorry to say it but Avid tried to screw me over. I built a Ion from the ground up and had an air leak I could not find. I took it to them and asked if they could take a look. When I get my gun back my clamping feedneck is not on their. They took it off my gun and put a stock one back on. Then when I took it to the field and was at the chrono balss just rolled out of my barrel. They did not put my detents back in the gun. It was very dissapointing after my experience that I had with them when they were Splatter.

---
---
0 user(s) are reading this topic
0 members, 0 guests, 0 anonymous users