Alright, I am an avid Dm shooter and have been compiling basic information for people coming into the spool valve (more importantly the Dye/Proto) side of the market. I'm currently working on the LPR and Dwell part of things.
I was just sick of looking through threads from peoples varying advice and needed a "Cut & Dry" way to look at things.
The truth is the corrleation between HPR/LPR/Dwell is very complicated so take what you are about to read as very simple, the best way to know how these things work is by finding a sense of balance, sometimes by raising something you must counter it by lowering something else. The best way to recognize what you want is to read the bottom of this post to find out how you want your gun setup.

*There are no best settings (So asking someone what are the best settings will not apply to everyone because everybody has different want/needs in a gun and even if these needs/wants were the same, no two guns are the same.
Dwell
: This is the time (in milliseconds) the solenoid stays open to allow air to the bolt.
Lower Dwell
+More Efficient (More Shots Per Fill)

Higher Dwell
-Less Efficient (Less shots Per Fill)
LPR
: Also called the Low Pressure Regulator, this is the amount of air used to hold the bolt back and then when the solenoid is activated (pulling the trigger) this air is then channeled through a different passage way via the solenoid to push the bolt forward. On Dm's/Pm's, LPR is measured by "Turns Out". This means that if I screw my LPR adjustment knob all the way in, until it is snug, and then I unscrew it 3 full rotations, then I have an LPR setting of 3 turns out.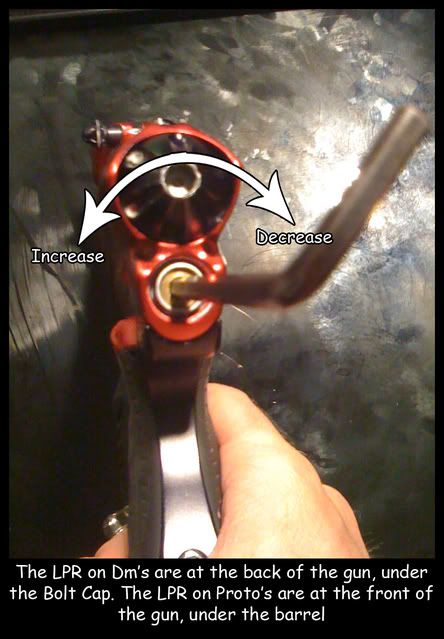 Lower LPR
+More Efficient
-Less Consistent (The FPS deviation between shots varies more; Ex: 268,285,277,250,295)
+More gentle on paint
Higher LPR
-Less Efficient
+More Consistent (The FPS deviation between shots varies less; Ex: 298,295,297,298,299)
-Less Gentle on paint
2 Ways To Reduce Kick:

1. The higher the dwell, the lower you can turn the LPR down; so the bolt moves a little slower for a little longer. This is how the Ironmen tune their guns (Dwell:19-21 LPR:2-3; Basically they set their dwell then lower their LPR til it drops-off then raise it about a 1/4 of a turn)

2. You can decrease the HPR pressure, this will in turn lower the psi in the dump chamber which will result in less kick

Both of these methods will make the marker quieter and softer on paint at the expense of not being as efficient.
2 Ways To Increase Efficiency
1. **Top Hat Rings on the bolt. This is a popular method used to increase efficiency. It decreases the amount of volume in the bolt's dump chamber. This makes you raise your HPR. Will result in more kick. (These rings are sold in packs of 3, but usually only 2 are used)

Top Hat Rings
+More Efficient
-More Kick
-Less Fragile on Paint


2.

Please correct me if any parts are wrong. This is a compilation of things I know and have read on various sites, so some of it could be wrong.