A lot of people are asking which paint is the best for a specific price range, so i'm going to compile a list to cover the different paints that are available for every price range. Also, list there strengths and weaknesses. *Please note that these tests are based on a visual comparison of each and not the accuracy or performance of each on the field, as Marballizer got a lower score than some, but it followed by formula 13 seem to fly the straightest, each being a different bore size, I would have to test each to there exact fit using different inserts to be true to each product. *Also if you are a tourney player, fill would not be as important as getting a quality thin shelled paint, since there being refs keeping a close watch on the field. A tourney player I would easily recommend Marballizer first.
Here is the first group going from left to right
1. Diablo Visible Impact
2. Diablo Formula
13
3. RPS Marballizer
4. RPS Stinger
5. Diablo Heat
6. XO Camotac
*Tested on a .689 barrel and going from biggest to smallest left to right, the Visible Impact is an extremely snug fit - to the smallest being the camotac that rolls right through the barrel. *Prices are taken from my local paintball store and local Walmart store. Please keep in mind that you should always look for the freshest paint available, as Mike has stated before, find out which paintball manufacturer is close by to where you live, here is the video link to his video
http://www.youtube.c...h?v=FbLeVK57dK8
. Also keep your paint in a tempature controlled environment, I would suggest in a cooler of some type in there sealed plastic bags, and place them in your closet, also rotate them occasionally to help avoid any soft spots.
*Top picture shows size and looks, middle picture shows the fill after three wipes, and bottom picture shows fill after it was just squeezed out.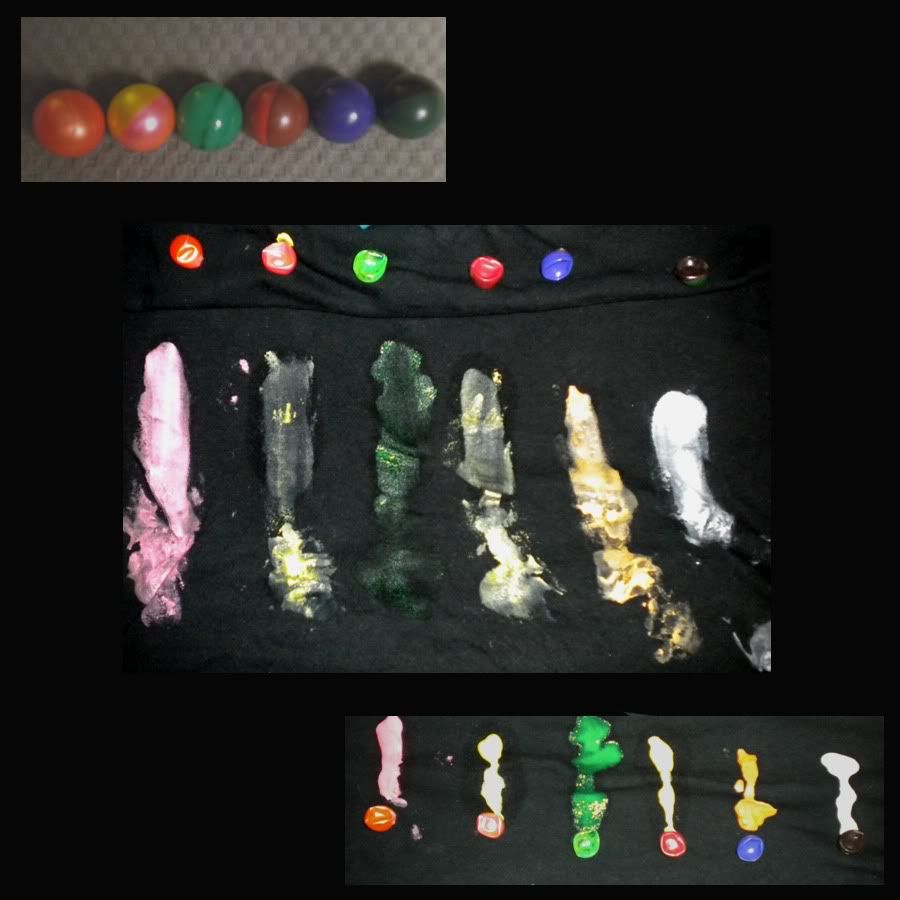 1. Diablo Visible Impact
- $35 a case, The fill is amazing bright thick pink almost impossible to wipe and a lot of it (best in the group), the size consistancy is great, the seams are very small although some are unevenly seamed together, The shell is extremely thin, and it is comparible to Formula 13's shell thickness, now for the bad buying from walmart your not supporting your local paintball scene and your going to have a hard time knowing how fresh it is, if you do buy this your best bet is to cut open each case and check for dimples and breaks, also keep an eye out for how fast it's moving off the shelves. Amazing paint for the price.
A
for the price going to be almost impossible to beat (above average shell, best fill, low price)
2. Diablo Formula 13
- $50 a case, the fill is actually the second worst in the group, altough chalky theres not much in it and it fades fast, the size consistancy is amazing, the seams are small (they always seem slightly bigger on two toned paint), the shell is extremely thin almost as thin as marballizer, I still think this is great paint for the price.
B+
great all around paint for the price (above average shell, below average fill, high/average price)
3. RPS Marballizer
- $65 a case, the fill is suprizingly the worst of the group, watery, hard to see and fades extremely fast, the size consistancy is great, the seams are perfect, the shell is very thin, it's clear so the color your seeing is actually the fill, perfect for breaking on target, even though the fill is thin this paint flies perfectly through the air.
B+
would be amazing if the fill was thick and was a bit cheaper, also if your playing woodsball this paint would be extremely easy to wipe because of the thickness of the fill and the color (that is if you play with a bunch of cheaters =P ) (Best shell, below average fill, high price)
4. RPS Stinger
- $40 a case, the fill is average of the paintballs compared, the size consistancy and the seams are great although as it seems on most two tones shells the seams are just a fraction larger. The shell is decent for the price, a little on the thick side, alot thicker than Marballizer but not as thick as Camotac, this paint is oily, they must place an oil on the balls to keep them from sticking when traveling to the stores.
B
It's a great budget paint it breaks easier on target than Diablo Heat and is less oily but has a worse fill. (slightly above average shell, average fill, average price)
5. Diablo Heat
- $40 a case, the fill was the second best of the group it's very thick and there's a lot of it, the size consistancy is great and the seams are very small, the shell is very thick the second thickest out of the paint tested, this paint is extremely oily, if you let a bag sit for any length of time you will see it accumulate on the bag.
B-
It's a great budget paint with a great fill, however it's shell is still too thick and the paint is very oily. (average shell, slightly above average fill, average price)
6. XO Camotac
- $40 a case, the fill would be great if there was more in it, it's an extremely thick white paste, the size consistancy is great and the seams are very small, however the shell is the thickest I have ever seen, my local paint shop sold out of this crap last weekend when we went to play a large senario game, I ended up taking numerous rounds to the head at almost point blank range and they didn't break.
D-
This stuff is basically a rubber bullet, if you can get it cheap use it for target training and leave it at that. (Worst shell, average fill not much fill but whats in there is good, average price)
*As of now based on Price/Fill/Shell Thickness I would say the best budget paint is Diablo Visible Impact followed by Stinger.
~List of Paintball Companys, manufacturing location, paintball types~
Draxxus
- (made by Procaps) made in
Montreal Quebec Canada
Paintballs they make, DXS Gold, Silver, Bronze, Blaze, Rec Sport, Basic Training
Diablo
- (company is from Sewell, New Jersey) the paintballs are manufactured by KEE action sports in
Clearwater, Florida
Paintballs they make, All Star, Formula 13, Heat, Zen, Ramp, Ramp Blizzard, Visible Impact?(not 100% on this one I think VI is made by Game Face but now marked through Diablo)
RPS paintball
- Also paintballs are manufactured in
Clearwater, Florida
, (I would guess they use the same KEE plant that Diablo uses).
Paintballs made by RPS are, Evil, Marballizer, Nightmare, Premium, Stinger, Polar Ice, BT Munitions
X.O. Industries
- Ontario, Canada (thx to
VaughanBallaa
for finding the location) has major warehouses in Plant City Florida, Lakeview, South Carolina, Tiger Oregon, Farmingdale New Jersey, and Union City California.
Paintballs made by XO, Spectrum, Chrome, V1, Camotac, Menace, Hot box, Vein, Velocity, Designer Series
WPN
- (not sure on there manufacturing plant) WPN makes, Weapons Grade, Elixer, Killabeez, Toxic
Links to some great information
(these are not my videos)-
Paintball Accuracy Video-
Testing Marballizer, Premium, DXS Gold, Chronic. Marballizer was the most accurate followed by premium, then DXS Gold, then Chronic. Using target grouping.
http://www.youtube.c...h?v=-td0WYVS2eE
Control Bore Size Paintball Accuracy Video-
Testing the grouping accuracy on a .680, .687, .696, and a .70, using Marballizer and 25 shots each. (22 inch spread on the .680, 20 inch spread on the .687, 16 inch spread on the .696, only a 14 inch spread on the .70.
http://www.youtube.c...h?v=r7LMQLSfiDY
Great Write up by
Ol'Baditude
on the INKA Jungle Paint.
I'll resurrect this thread.
Picked up a case of INKA Jungle today at Badlands Paintball here in Calgary. Yes they are made in Canada, and I heard somewhere that it was being made specifically for Badlands.
I put ~480 of them through my mini, and it shot very well out of my 14" 1pc .689 CP Classic and Evil Driver barrels, but I was definitely over boring. With RPS Premium and Formula 13 the guys at the shop were always willing to open a box and remove the twist tie from the bag to let me put a few through my barrel to guage bore size. With the INKA, the bags are heat sealed so you can't do that. As such, it wasn't till after I got home that I rolled the left over 20 or so through my barrel. They are quite consistent wrt size and I'd say the average was .685 since they pretty much rolled through every time.
The guys at the shop said the INKA Copper($35/case) was comparable to Formula 13($60/case here), the Silver($40/case) to RPS Premium($63/case here) and the Jungle($45/case) to Evil($68/case here).
While I will agree that the shell consistency reminds me of evil, the seam leaves a bit to be desired. Definitely decent, but not as good as I've seen. However, there was not one single dimple on any of the balls I took out of the bag which was a pleasant surprise. I was very happy with the accuracy overall out of my .689 barrels, very straight shooting paint provided your barrel is clean.
The fill(white or red)is nice and thick, roughly the same as RPS premium.
For $45 CDN a case of 2000, you CAN NOT go wrong with this paint, especially if you like to hide where your shots are coming from since the shells are half brown and half olive. If you like to see your shot path, then I'd just go with the Silver($40 per case) or Bronze ($35 per Case).
After my experience today, I would have to say this paint is probably the best value on the market right now. Lucky for me I have a steady supply.

Edited by Killswitchengage, 07 July 2010 - 05:03 AM.