The rules:

1.NO TRADES!! Please do not offer because im only looking to sell these items, thanks.

2.

Mod Note: All offers to be in the sales thread...No PMs



3. If you want to use a Third party system (one of the mods here) i would be more than happy to do so however you must pay for it.

4. All of the items are listed for sale separately, however, i will bundle any and all items for a discount.

5. More pics can be added/emailed upon request. I did my best to get as much detail as possible but if you want a different angle id be happy to supply.

6. All items will be shipped USPS.

7.

Mod Note: Seller pays all PayPal fees.





Item: Red V-Force Grills
Condition: 8/10
Known problems: Only thing wrong with them is a dime sized circle of very minor scratching on lenses (not noticeable when playing) , other than that like brand new.
Whats included: Everything that it came with new: Box, microfiber carrying bag, chin strap and visor.
Asking price: $50 shipped.





Item: Tippmann 98 Custom ACT
Condition: 8/10
Known problems: None, only 8/10 because its been used a few times and would no longer pass for LNIB
Upgrades: Response trigger, Expansion chamber.
Included: Stock barrel, macro line and foregrip to return it to stock from expansion chamber, for an additional $15 you can also get the pictured 14 in J&J ceramic.
Asking price: $50 you pay shipping, ($65 with J&J barrel included)




Item: Wrek Paintball 3 pod pack
Condition: 8/10
Known problems: None, just rated it an 8 because its dirty from being used, no rips or loose stitching.
Included: 2 140 rd pods.
Asking price: $15, you pay shipping





Item: Extreme Rage 2 pod pack
Condition:9/10
Known problems: None
Included: 2 100 rd pods
Asking price: $10 you pay shipping




Item: Viewloader Evolution 2
Condition: 7/10
Known problems: Small half inch crack on black shell above neck (not bad)
Asking price: $15 you pay shipping




Items: 2 20 oz. Co2 tanks and a 9 oz. Co2 tank
Condition:8/10
Known problems: none
Asking price: $20 for all, you pay shipping
Born on dates: Brass eagle 20 oz. 6/07, extreme rage 20 oz. 10/09, stryker 9 oz. 07/09




Items: Brass Eagle Stingray 1, Brass eagle Talon, Brass eagle blade
Condition: Stingray: 5/10-internals are kinda worn and has a slight leak but still shoots, includes 12 inch barrel. Talon-7/10 shoots great and no leaks, missing some screws. Blade:8/10, Nothing wrong just a lil worn.
Included: just the guns
Asking price: $30 for all 3, you pay shipping.

I took apart the talon and blade and cleaned all the internals really well.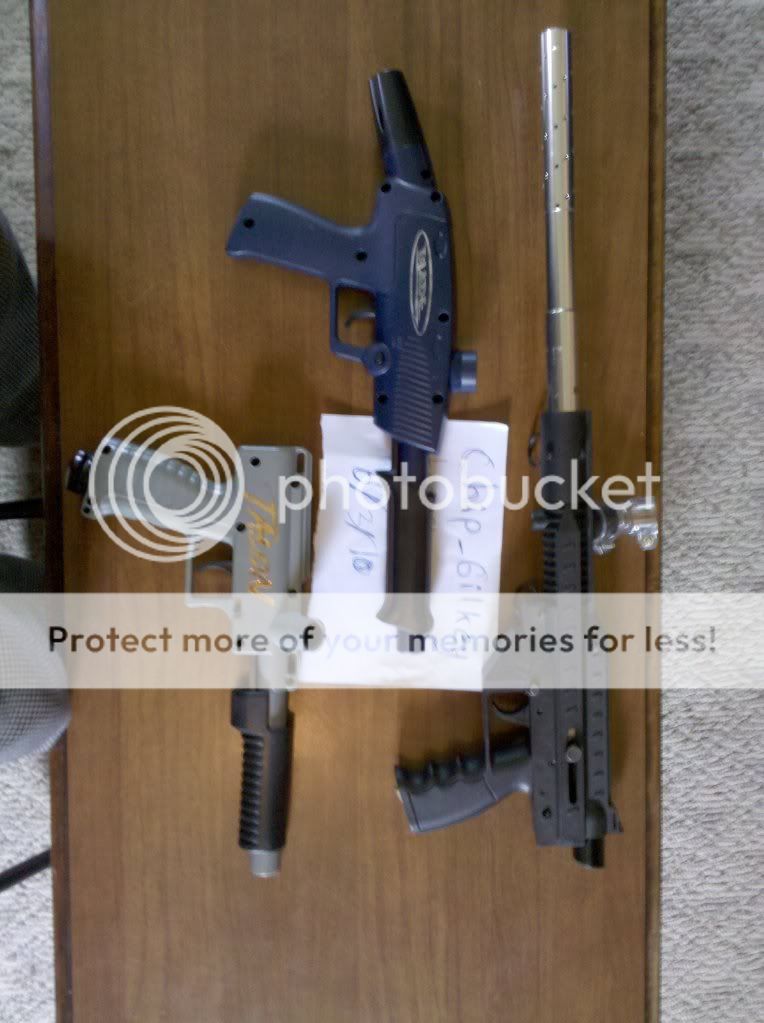 I also have a ball caddy and an XL 07 JT USA jersey, red that i will include for free if someone buys a few items at once.