I haven't made many recent posts here on TechPb, but one thing that I've been noticing is that people offer me a pretty good offer only to back out due to lack of commitment. If someone goes out of their way to offer something up, I'd sure hope they follow through. I think it's ridiculous. I've had maybe three or four good deals fade away because of the other party backing out. Anyone else have this happen to them? In my latest rage, someone offered me an S6.5 straight for my CCM'd Karnivor.
My Karnivor:
Their S6.5
Then here's the screenshot of our conversation. I'm pretty annoyed.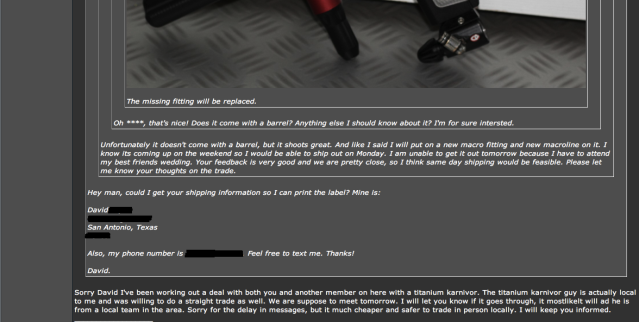 Anyway that's it, feel free to add any stories.
Edit: In the screenshot, I did tell him I was interested after he had asked. He didn't include that part in the conversation.
Edit2: I promise this is the last edit. A while back ago I had a Bob Long Vice up for sale or trade and this guy offers me an SC'd 4C'd Closer with all the trimmings (with the exception of a pressure tester, the dude didn't even want to add money for one even though my Vice had one) anyway we agree to ship Monday. The then tells me he sold it on Sunday to some guy. I was pretty pissed so I just made my signature on PbNation "Careful when dealing with (insert username here), he may back out at anytime! He then sent me this message.