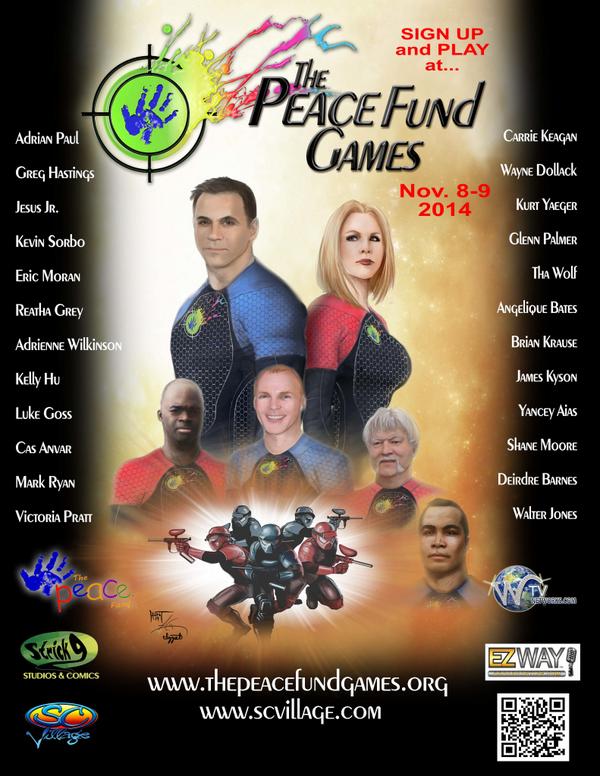 First Annual Peace Fund Games
General Admission: $70 (Includes viewing of the Nov. 8th tournament and admission to participate in the Nov. 9th game)
VIP Package: $110 (Includes the General Admission package PLUS a jersey made especially for the event (an $80 value)!)
The first Annual Peace Fund Games is the brain-child of actor Adrian Paul (star of the hit TV Series Highlander), during a conversation with actor Luke Goss, on the weekly radio show, Peace Fund Radio. Several months later, when actor Cas Anvar came on the same show, the games began to take shape. It has been the intent of the Peace Fund(Protect, Educate, Aid, Children. Everywhere), to collaborate with various charities to support them logistically and financially, while partnering on initiatives to help children around the world. Now the Peace Fund Games has furthered that idea, with celebrities raising awareness and funds for the causes they support.
Event Schedule
Registration Opens 3pm-8pm
Player Party 7pm-12am (this includes charity information, food and music)
Registration Opens 9am-8pm
Trade Show 10am-Sundown
Celebrity Tournament 10am-Winner
Celebrity Battle Royale 1pm-Winner
Registration Opens 7am-5pm
Player Orientation 8am-8:30am
Game On 9am
Stand Down 4:30pm
Final Battle 5pm-6pm
Award Cremony 6:15pm-7pm
How Peace Fund Games Work
Each participating celebrity will chose his/her perspective charity to support.
Friday
– At check in and at the players party there will be information about these selected charities, so those participating can see the causes chosen to be represented.
Saturday
- We begin with the five-man tournament. Twelve teams, each with three collegiate players and two celebrities, battle for a chance to win the top three places, to raise funds for each of the charities they support, by eliminating the competing teams. At the end of the five-man tournament there will be a Battle Royale. Twelve celebrities shooting it out, one on one, til the last one remains. The champion, will gain an extra donation for the charity of their choice.
For those not playing in the five-man tournament there will be other paintball challenges, a practice area, as well as a Trade show to spend the day.
Sunday
- Two generals, Adrian Paul (Blue Team) and Carrie Keagan (Red Team), will rally their troops to win the Title, Champion of the first Annual Peace Fund Games. During this part of the event the teams will be completing missions, collecting props and territories.
This will all lead up to a large scale, one hour final battle in which Generals Keagan and Paul will lead their troops for the ultimate prize, Champion of the first ever annual Peace Fund Games. Cash prizes will go to the charities of the Celebrities on the winning team. Celebrities can also gain monetary prizes for their cause, by completing secret missions during this exciting one-day extravaganza.
The First Interactive Paintball Event
Can't make the tournament? Want to help your favorite team? Want to make a difference? Then join us live (feeds to be announced closer to game date) and view the tournament from the comfort of your home, or on any of your mobile devices. Sponsor your favorite team and help raise more money for that team's charity of choice.
During the event live feeds will show thirteen different locations on the field in real time and the viewership can choose to help their team by donating on the website and affect the outcome of the games. Donations will be made for "Specials", items such as, virtual grenades, rocket launchers, aerial attacks, radio blackout etc, (details to be added closer to event date), that a celebrity and/or a team can use to complete a mission. Each Special will be attained by a donation based on its effectiveness.
We will be attempting to have the most players at a paintball game, most celebrities on a paintball field, as well as 6 other attempts. So, make sure you sign up soon for this amazing opportunity and pass the word along to everyone you know. Together lets raise awareness and make this the best event ever!
Also note that in addition to Hollywood Celebrities, paintball celebrities have been slated to appear, such as Glenn Palmer and Wayne Dollack.
Event Contact Info
The PEACE Fund
15233 Ventura Blvd, Suite 610
Sherman Oaks, CA 91403
Event Location
SC Village Paintball & Airsoft Park
8900 McCarty Road 
Corona, CA 92880
Park Contact: 562.867.9600