one thing that is different between the marq 6 and other marqs is stock it does not have the lpr slot milled in the frame other then that they are all the same when it comes to internals unless of course u get the closer. which ppl have mentions has tadao board 4 eyes pillow bolt qd ram 3 piece barrel kit ball berring trigger and an on/off. The Exp is different between original closer because it no longer comes stock with 4 eyes has a one piece barrel and doesnt have an on/off. they will all shoot the same stock. marq 6 and 7 are generally the cheapest. They run about 325-400 stock and according to the ups rise in price. Almost all marqs come stock with a frenzy board. Except for closers with come with a tadao mushashi m8 board
marq 7, mummy,marq 6, dark marq, edge, rapper then closer
^^^^^^^
about same weight
specs and weights
marq 6 first production marq still amazing gun doesn't haven't milled lpr slot stock which makes it so u must remove frame to adjust lpr. u can send to blast to get in milled in, one piece barrel
around 2.1 pounds without barrel
lbs 2.1
marq 7 07 version of marq. has snatch grip and milled lpr slot stock still has 1 piece assassins barrel
lbs 2.2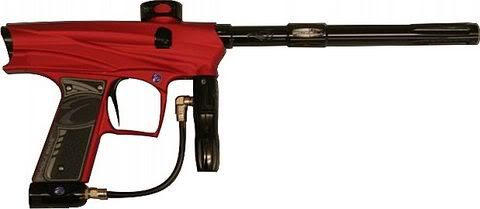 mummies are different then normal marqs while they are still marqs it doesn't matter if u line up the holes upon reinsertion of engine back into body. it comes with 4 eyes hybrid trigger hybrid headloc snatch grip and hybrid on/off sometimes has hybrid reg. there was 3 different versions one was just called mummy which was the first I don't know the other order but the other 2 were hybucci mummy and traitor mummy
lbs 2.2
traitor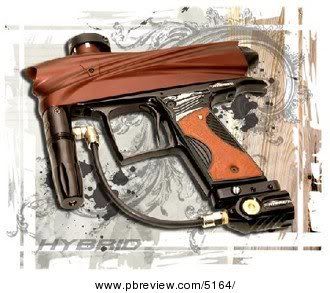 hybucci
darq marq similar to marq 6 or marq 7 except a little lighter just different milling less were made.
not sure on weight
edge has closer trigger dual barring trigger 50 were made the milling is completely different and they are RARE
although they are no different then any other marq beside trigger
not sure on weight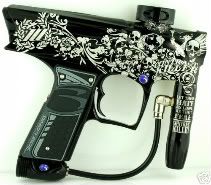 rapper is lighter version of the marq 7 once again milled down with a new design 1 piece tournament series barrel.
has a little piece that sticks out right in front of reg some people don't care about this others do.
lbs 2.0
closer lightest of them all comes stock with tadao mushashi m8 board closer dual bearing trigger 3 piece barrel kit qd ram pillow bolt and on/off
lbs 1.9
closer exp just like original closer except doesn't have 4 eyes stock has one piece barrel and no on/off
lbs 1.9
I am going buy this chart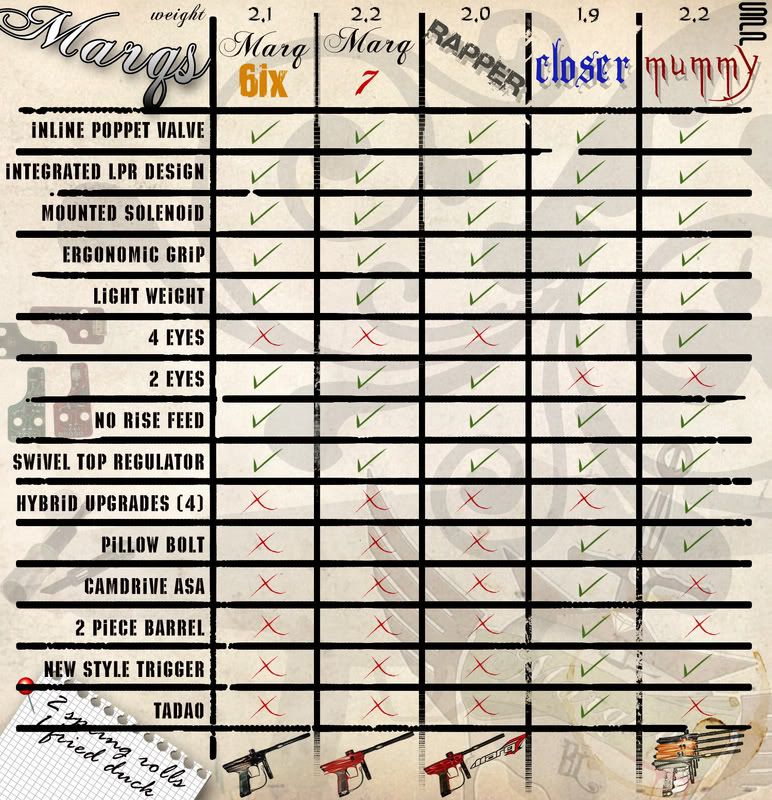 to lube any marq you would use dow 55 or dow 33 but dow 55 is recomended
use triflow or gun oil on the bolt orings