pntbller17
Member Since 31 Jan 2009
Offline
Last Active Dec 06 2010 12:07 PM
About Me
I live in New York in a small town thats perfect for woods ball.
My Gear-
Events mask (White)
Smart Parts ion with DTI3 tactical body, L7 TechT bolt, APE rampage Board, Virtue Laser Eyes, NDZQEV, 14"J&J ceramic barrel (Back up) Trinity 17" tactical barrel (main), Kritical Trigger, Hybrid contract killer grips, tipman 98 SAW stock (Camo), CP Inline reg Long
Tiberius T9 Sniper (secondary) Car Stock, First Strike Kit, Red Dot
Spyder TLR (silver Sniper edition) Crappy Back up gun
DYE throttle tank (91CI 4500PSI)
Shit metal air tank (70CI 3000PSI)
Camo tactical vest 4+1
4 Dye locklids (smoke)
Halo V35 w/ empire anti jam (backup)
Smoke Empire Prophecy V 2.0 (main)
Army surplus camo + boots + authentic canteen
Paintball Caddie (Black)
Commonly asked questions-
Q:Ions suck, why did you buy one, then waste so much money upgrading it when you couldve gotten a mini/etc. ?
A:At the time i bought my ion new, it was the hottest gun on the market, and being into woodsball i heard it was a kickass gun for the price from my freinds who are, and were ranked D2+ (airball) The same freinds that 2 years later are bitching at me, and saying my ion sucks (WHATEVER) all reccomended the ion when i said i was in the market for a cheap new electro (shows you how much the "pros" know). Also My ion kicks the shit out of any stock mini. The insane amount of upgrades i can get for it make it second in customization only to the tipmans. Its the second most customizable gun on the market HANDS DOWN. Some argue its more customizable then tipman because there are so many different bodys and frames you can buy for it, you can make it a woodsball, or a speedball gun.
Q:Why do you play woodsball? Are you also into tourney ball?
A:I like to play woodsball because my friends always invite me over, and the woods here are perfect for paintball, also its 40+ minute drive to the nearest field for speedball. I love the simplicity of woodsball variants, attack and defense, capture the flag, take the bunker, siege the hill, etc. Keeping up with tourney regulations, expenses, the ever expanding+changing rulebook, the travel, its all just too much, and it would suck all the fun out of paintball for me. And thats without the mentioning of cheaters who run rampant around the speedball fields, and the bullshit "Bonus Balling" rules. Fuck that, in the woods if you get hit and dont call it, you better be ready to eat paint because we dont let up till you scream that your HIT.
Q:You play woodsball, whyd you buy an Ion?
A:An ion at the time looked very attractive because it was my first electro since entering the sport, i also only played 2 games in the woods with the stock body before my DTI3 tactical body came in, it is made of metal, and can withstand any punishment i give it while running through the woods, or kneeling in mud. Also the adjustability and multiple firing modes was far more attractive then my tlrs straight semi. (remember, its woodsball with freinds, we have the chronoing every third game, there is no rules against switching modes in game, and there is no cap for BPS
Q:A 91/45 tank?! With a 70/30?!? 3 cases of paint?!?!?! Isnt that... Overkill?
A:To some it might seem like a bit much, but i play anywhere from 5-10+ games when i do play, depending on the # of people, and how much air and paint they have. I like to be prepared, and i do have trigger happy tendancies. So its not unusual to see me show up with 3 AMPS, and 2-3 cases worth of paint.
Q:WIll you ever get rid of your ion and get a "Real gun"?
A:Just because i bought a gun i could afford, and then bought ups as i could afford them doesnt make my gun any less of a gun then your ego you bought with mommys money. I wont be selling my ion, even if i decide to get a new gun (not likely) Im not gonna post it up on Ebay, or PB nation so some stuck up "Pros" can flame it going "thats worth 200$ or less"
My philosiphy about my ion is this, after all the stock parts are replaced with top of the line aftermarket parts it will outpreform any gun in the 100-500$ range because its internals are superior. Forget your egos because they could never take the punishment of a woddsball game. If i get a new gun ill get the Boblong Vice because its better then the ego SL8R stated by mike its only minorly better in some areas then the Vice, so your paying 4-500$ + for the paintjob which is a WASTE you want i sick paintjob? Get a Vice, ship it in and get it laser engraved. Also where is the fun in buying a 500$ gun? My ion is MINE, no one else out there has an ion exactly like it, and no one else out there can say its not origional. Ive grow a real bond with my gun, and i take great care of it because ive had it for so long, and ive put time and money into making it the gun it is today.
The Sexiest Ion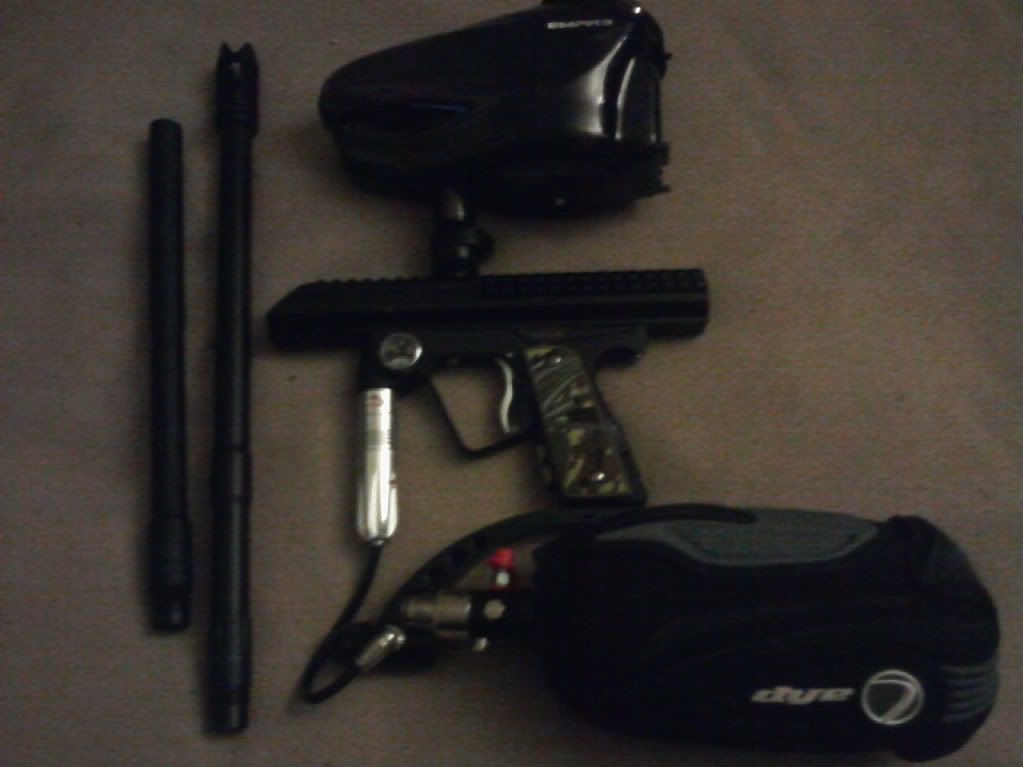 T9
---
Community Stats
Group

Members

Active Posts

933

Profile Views

5,860

Member Title

LegION (Owner of Sexiest ION)

Age

25 years old

Birthday

January 7, 1992

Gender

Male

Location

New York

Interests

Same as you, Paintball/Woodsball/Airball/Xball/Tourneyball/Airball
Viewing Profile: pntbller17